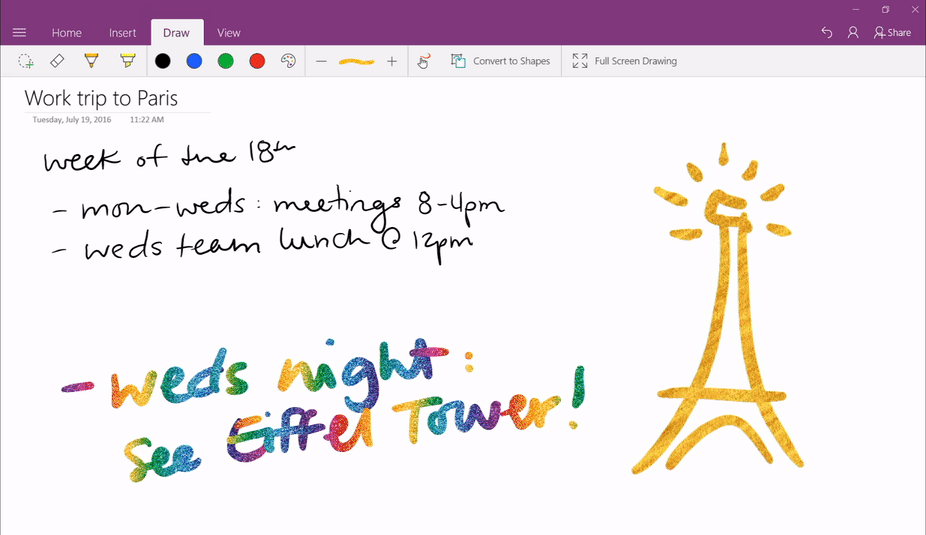 Today, Microsoft announced a pretty cool feature available for OneNote users on Windows 10. The company is adding Ink Effects to OneNote, which will allow users to take notes on OneNote with some fancy effects like you can see in the screenshot above. At the moment, there are only 4 effects available, including Rainbow, Galaxy, and Silver. Microsoft says the company added these effects after receiving feedback from students, which is pretty fascinating. Microsoft states:
Sometimes a simple color isn't enough to get your idea across. Now you can jazz up your notes and drawings with new ink effects like rainbow, galaxy, gold and silver to make anything you write more unique and even more fun. We were inspired to create these new ink effects in response to requests we heard from students when we visited their classrooms. During beta testing, we were pleased to see the smiles brought to everyone's faces—young and old alike. Ink effects are now available for Office 365 subscribers in OneNote on Windows 10.
If you are a Windows 10 user, you should be able to get the new Ink Effects on Windows 10 right now. However, keep in mind that you'll be required to have an Office 365 subscription to be able to use this feature.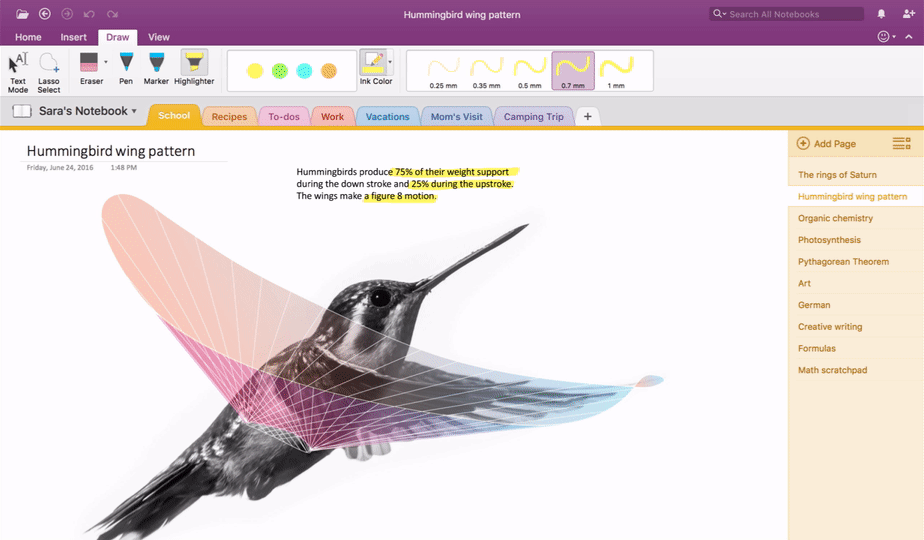 Alongside Ink Effects on Windows 10, Microsoft has also announced a pretty major feature for OneNote on macOS. Today, the company is releasing Ink support for OneNote on Mac for the first time. Just like the Windows 10 app for OneNote, you will be able to enable Inking on OS X via the Draw tab in the app. At the moment, Ink Effects doesn't seem to be available for OneNote on Mac, but that'll likely come in the near future. The company stated:
Today, we're launching ink in OneNote for Mac for the first time, bringing to life one of our top user requests. Now you can write, draw and highlight with tools on the new Draw tab using your mouse or trackpad. You can also use your third-party drawing tablet or display that uses a pen or stylus to write, draw and erase –just like pen and paper. And we've added lined pages and grids as a background option to help keep your new handwriting and drawings neat and tidy. These new tools for Mac let you express yourself in a whole new way, as you think with ink.
If you use OneNote and want to try out these new features, you can get OneNote for Windows 10 from here, and OneNote for Mac here.