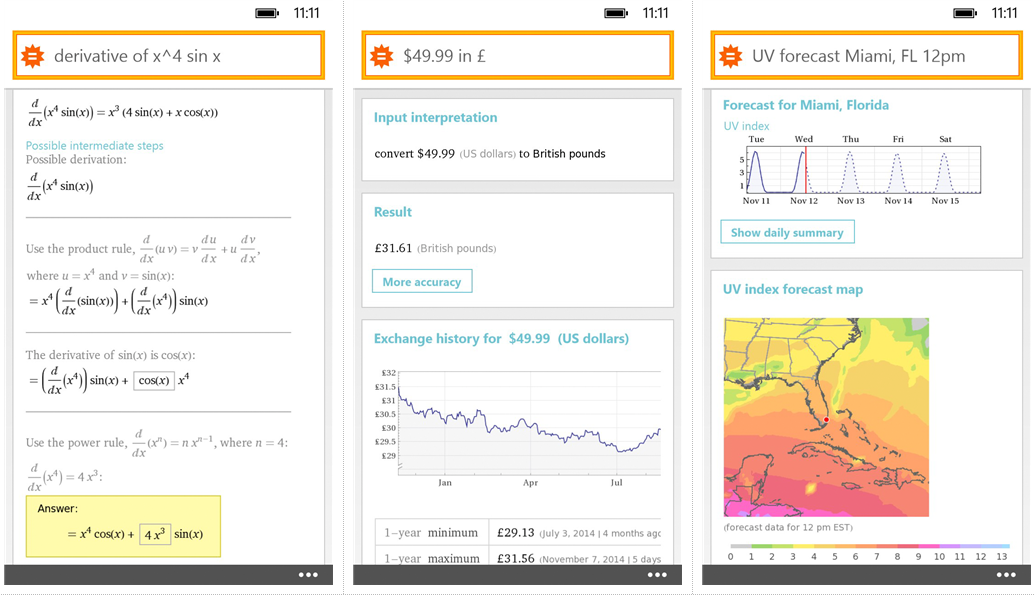 Wolfram Group LLC has brought their official Wolfram Alpha app to the Windows Phone Store.
The back-end service, which is used by Siri, uses its vast collection of algorithms and data to compute answers and generate reports for you.
Domains covered by Wolfram|Alpha include:
MATHEMATICS

STATISTICS & DATA ANALYSIS

PHYSICS

CHEMISTRY

MATERIALS

ENGINEERING

ORGANIZATIONS

TRANSPORTATION

TECHNOLOGICAL WORLD

WEB & COMPUTER SYSTEMS

ASTRONOMY

Astrophysics

EARTH SCIENCE

LIFE SCIENCES

COMPUTATIONAL SCIENCES

SOCIOECONOMIC DATA

HEALTH & MEDICINE

FOOD & NUTRITION

EDUCATION

UNITS & MEASURES

DATES & TIMES

WEATHER

PLACES & GEOGRAPHY

PEOPLE & HISTORY

CULTURE & MEDIA

MUSIC

WORDS & LINGUISTICS

SPORTS & GAMES

COLORS

MONEY & FINANCE
The app is a pricy $2.99 without a free trial, and does not include Cortana integration, but early reports is that it functions well and looks good. Full Wolfram|Alpha Pro capabilities such as file upload and personal analytics are not yet available through this app however.
Find it for $2.99 in the Windows Phone Store here.