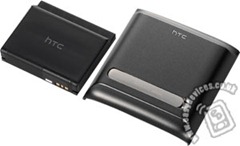 Still a massive £41.11, the official HTC HD2 extended battery with kick stand is now available from EasyDevices.co.uk.
The battery, which comes with an extra battery cover, has near double the capacity of the included one, at 2300 mAh, which should keep your 1 Ghz device running smoothly for a few more hours.
Order the accessory at EasyDevices here.