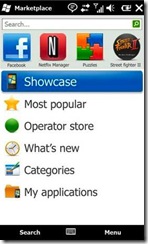 According to Maarten Sonneburg, business manager for Microsoft Netherlands, the reason for the scanty apps in the international marketplaces have everything to do with the phased launch of the service.
Phase 1 was just to get the infra-structure on place, with companies not having much time to actually get apps in the market.
Phase 2 is where all the action will be:
In Phase 2 (planned for late November / early December) Marketplace will also launch a PC environment. Then the user from other countries will be able to choose applications from other countries  because of the so-called geo selector for the catalog eg  U.S. users will be able to choose from and English-language apps released in other countries for downloaded. Then there will also be hundreds of apps, paid and free. Also nice is that in Phase 2 Marketplace for Windows Mobile 6.0 and 6.1 devices will be made available. Then the users of these devices will be able to download applications.

While official confirmation is nice, it is not clear to me if applications from other countries would be browsable from the device or just from the PC. We look forward to clarification of this issue.
In the mean time I have been obsessively checking the growth of the UK Marketplace, and have been happy to see an increasing number of interesting applications showing up, which bodes well for the uptake. 
Thanks Noonski for the tip.