Microsoft recently released Windows 10 for Phones Build 10051 to Windows Insiders. Unfortunately though, the build didn't include the new, universal Office apps. However, Microsoft today announced that the company will release the new and universal Office apps to Windows Insiders by the "end of April". The company has posted a picture of the new Word app on Windows 10 for Phones, take a look: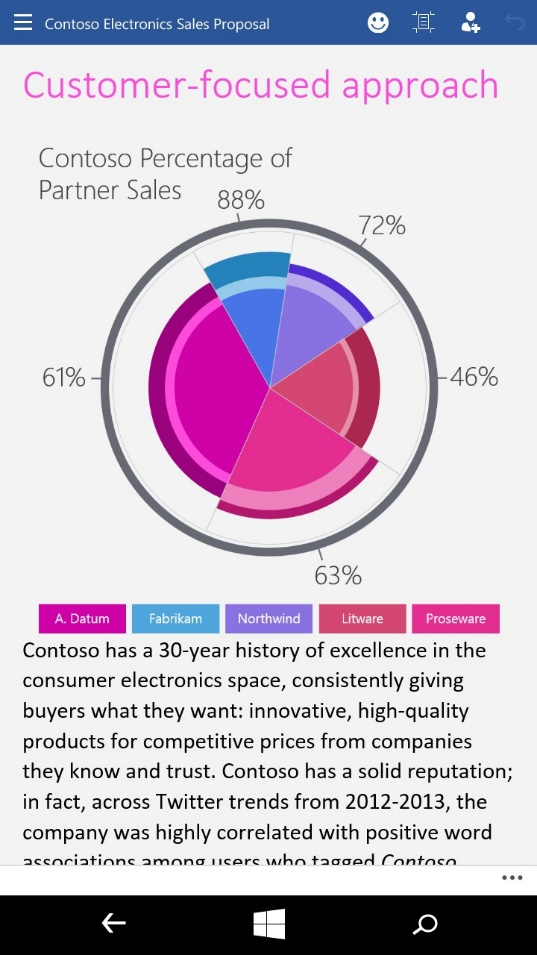 Microsoft states that the new apps are touch-first, which has been optimized for phones and tablets. Back in January, the company showed off the new Office apps which looked much better than the old Office apps. Microsoft stated:
Our Office Universal apps are designed for on-the-go productivity. They're touch-first, built for tablets and phones, and optimized for viewing, quick edits, notes and mark-up. On a tablet, the Universal apps are fast, fluid, and streamlined for an immersive, hands-on experience. They're fantastic for reading and perfect for touch- and pen-based content creation. On a phone, the Universal apps adapt to the smaller form factor. Commands and controls are moved to the bottom of the screen so you can triage your work and make edits one-handed with your thumb. (That may sound like a small thing—but wait until you try it. It makes all the difference!)
Unfortunately though, Microsoft hasn't yet revealed if the new apps will come with a new build – however, as Build 2015 is also happening by the end of this month, we expect the company to release a new build with more improvements later this month. However, as this is just a speculation, we aren't able to confirm if Microsoft will indeed release a new build by the end of this month.
Nonetheless, tell us what you think about the new Office apps on Windows 10 for Phones in the comment section below!