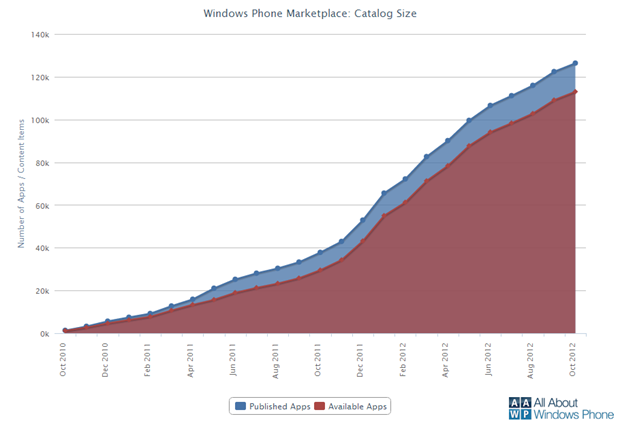 AAWP reports that by their count 126,530 apps have been published in the Windows Phone marketplace, of which 113,170 are available for download.
The slope of the graph above however clearly shows that the growth of Marketplace has slowed down.
At present only around 215 apps per day is being published, likely as the result of the Windows Phone device market not growing as fast as hoped, and the fact that Windows Phone 7 and Windows Phone 8 will use different platforms, meaning some investment in Windows Phone 7 apps will be wasted when the new OS comes along.
As of October 22nd, 2012 AAWP notes the key facts as:
126,530 apps were published to the Windows Phone Marketplace over the last 20 months
113,170 apps are live (publicly listed as available for download, total across 60 countries)
101,517 apps are live in the US Marketplace
Windows Phone reached the 125,000 milestone faster than Android (26 months), but slower than iOS (18.5 months)
30,000 developers have published an app in the Marketplace
Proportion of quality apps (rated five or more times) stable in the UK at 7.8% (8% in May), increasing in the US at 13.8% (12% in May).
We look forward to a resumption in velocity of growth with the next bump in the Windows Phone installed base with the release of Windows Phone 8.
Read more at AAWP here.
Thanks Arun for the tip.