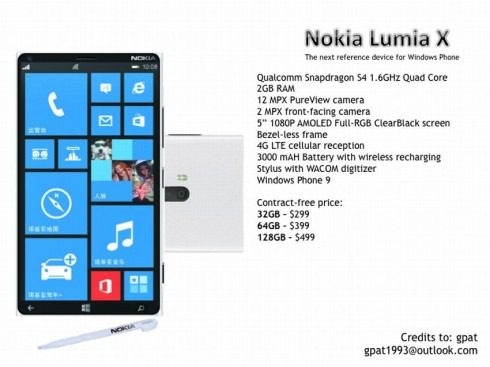 Concept Nokia Phablet
Mobiletoday has revealed some interesting titbits in a recent article.
According to their sources Nokia is shopping around for a "preferential UK operator" for a hero phone, after already confirming in their investor call that they will be pursuing the same strategy in USA.
EE originally had exclusivity on the Lumia 920 when it launched last year and Nokia also signed a deal with O2 for the Lumia 720 in red.
The identity of the new device was not revealed, but Chief financial officer Timo Ihamuotila  said: ' So, you hear us talking a lot about imaging, and so, you should watch…for us to continue to advance the state of the art, like what is the best experience in imaging on devices."
Nokia is rumoured to have a 41 megapixel Lumia handset in the offing, with the Nokia EOS rumoured for the June to August time frame.
MobileToday also revealed another very interesting titbit. Apparently Nokia is set to release a phablet in Q4 2013 which will be a massive 6 inches and which will sell for between £400 and £500
Mobiletoday quotes Stephen Elop as saying they were seeking to experiment with 'broader form factors and different things that we can do', adding 'We have a lot of juice ahead, as it relates to the Lumia product lines.'
The exclusive carrier model is much hated by our readers.  Are you surprised to hear it will continue? Let us know below.