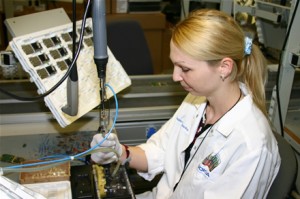 An employee at Nokia's Romanian factory
Nokia has continued its internal restructuring, doing what Nokia CEO Stephen Elop called "painful, yet necessary, steps to align our workforce and operations with our path forward."
This included closing a Romanian factory with the loss of 3,500 staff and also their Location and Commerce sites, which are concerned with monetizing Navteq data,  in Germany and USA. The reductions should be completed by the end of 2012.
They will also be reviewing its Salo, Finland, Komarom, Hungary, and Reynosa, Mexico plants, with the expectation that they will "shift their focus to customer and market-specific software and sales package customization." That will likely result in more staff cuts next year, it's warned. Asian plants and automation will take up the slack.
Consultations with Sales, Marketing and Corporate Functions are also now beginning with regards to further job cuts in those services.
The market appears to have reacted negatively to the changes, with Nokia down 1.42% in after hours trading.
With all of the changes, and Nokia being led by a Canadian, one wonders if Nokia will still be regarded by consumers as a European company, something which was associated with some degree of loyalty to the brand on the continent. Also with the future of Nokia to a large degree dependent on execution my Microsoft the Seattle company must feel an awesome responsibility to fulfilling on all their promises.
We, and I am sure all of Nokia's investors, employees and fans, hope they can live up to that.
Read more at Slashgear here.