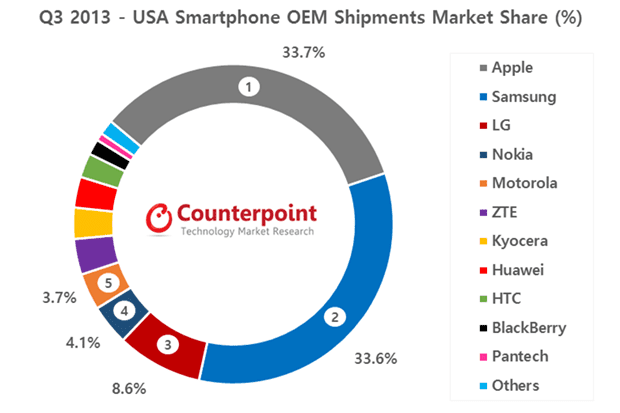 We complain regularly about the lack of traction Windows Phone and Nokia has in USA, but like all things Windows Phone these days it seems things are changing, and rapidly.
Market Research group Counterpoint has released their US figures for Q3, and it shows healthy change for the Finnish brand, with its share of the US market increasing nearly 6 times from 0.7% to 4.1% in only a year, and more dramatically from 1.4% to 4.1% in only a quarter, from Q2 to Q3 2013.

Counterpoint attributes that success to the strategy most of us rather hate –working closely with carriers in USA to release exclusive and customized products for their customers.
They note:
On the other hand, the leading Windows Phone based smartphone manufacturer in the world, Nokia, captured the fourth spot for the first time since the iPhone launch, overtaking Motorola, HTC, BlackBerry,  Huawei, ZTE & other brands. The key reason for this growth  can be attributed to the big change in the Finnish vendor's approach and go-to-market strategy towards selling its new phones in this highly operator-controlled US market  compared to the less flexible attitude during the time when iPhone was launched. Nokia has thus in the last few years of post-Symbian transition has worked more closely with multiple operators offering them highly differentiated exclusive products with targeted and unique value propositions. This extra effort has helped Nokia steadily  build its Lumia portfolio as well as win more shelf spaces at multiple carriers to reach at this inflection point.
They note Nokia now has 5 smartphones in USA, with two models at Verizon Wireless, three models at T-Mobile and one model each at prepaid carriers – MetroPCS and Aio Wireless, and is due to add the Nokia Lumia 1520 pretty soon, finally offering a deeper and differentiated product line in the USA.
Of course like elsewhere in the world the Nokia Lumia 520 family led by volume, followed by the Nokia Lumia 925 at T-Mobile and AT&T and the Nokia Lumia 928 on Verizon.
Counterpoint expected the Nokia Lumia 1520 and 2520 will help Nokia see its premium portfolio grow and help drive market share, value share and mindshare  in the US market.