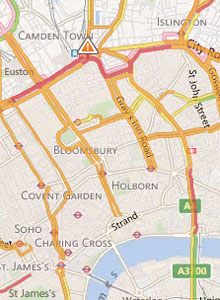 Few days ago we reported about the updated more traffic data appearing on Bing Maps for Windows Phone devices. Now, the reason behind it was revealed. Nokia today announced that Bing Maps is now powered by Nokia Mapping technologies such as the Where Platform. Bing Maps is now taking advantage of live traffic info and geocoding algorithms from Nokia.
As a result of this, you will find traffic info on Bing Maps in 24 new countries and get better routes and directions for people around the globe in many countries. Here are the 24 countries that will feature live traffic info from Nokia on Bing Maps,
Thanks to Nokia's Where Platform, Bing Maps can now offer the same traffic information that is already available at Nokia Maps in 24 countries (Austria, Belgium, Brazil, Canada, Denmark, Finland, France, Germany, Greece, India, Indonesia, Ireland, Italy, Luxembourg, Mexico, Netherlands, Norway, Poland, Portugal, Russia, Saudi Arabia, South Africa, Spain, Sweden, Switzerland, UAE, UK and US).
I'm sure many of our readers will be very happy to hear this news. Enjoy the updated Mapping experience.
Read more at Nokia Conversations and Bing Maps blog.