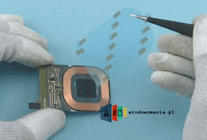 WindowsPhoneMania.pl managed to get their hands on the Nokia Lumia 920 service manual,and I think finally explained why the handset is heavy and relatively thick, by modern standards.
The wireless charging coil reveals itself to be rather chunky, and is likely not a very light element either.
It does raise the question if the standard addition of the feature is worth the weight and size premium.
What do our readers think? Let us know below.
See many more pictures at Windowsphonemania here.