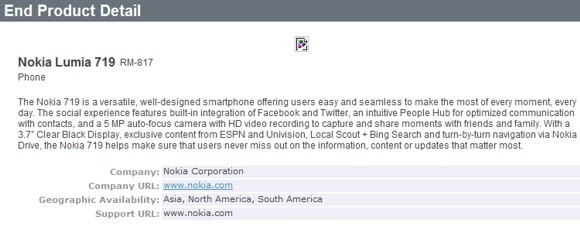 The Nokia Lumia 719 is a handset which has long been rumoured, but which has remained rather enigmatic. The handset has popped up before on Windows Phone gaming and benchmarking sites, and has now passed through the Bluetooth SIG, which shows that the handset is definitely aimed at the USA, with ESPN and Univision included.
The screen size remains 3.7 inch and the camera 5 megapixel, suggesting the device will remain very similar to the Lumia 710 on T-Mobile.  There is however rumours that the handset will feature LTE and is heading to Verizon, and also that it will be shown off at Mobile World Congress soon.
If those rumours are true we may finally see a second generation handset on Verizon, even if as always it is not a high end device.
Via Unwiredview.com