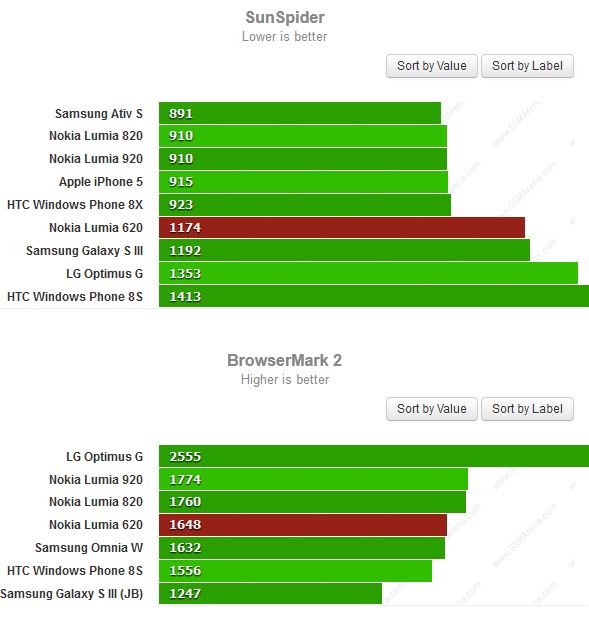 Lumia 620, the upcoming mid-range Windows Phone 8 device from Nokia performs better than Samsung Galaxy S III in two of the standard browser benchmarks. GSMArena posted the preview of the device today and they compared the Sunspider and BrowserMark 2 benchmarks of Nokia Lumia 620 with other Lumia devices such as Lumia 920 and also Samsung Galaxy S III. Even though Lumia 620 will cost only half the price of GSIII, it scored better in both the Sunspider and BrowserMark 2 benchmarks.
GSMArena's final impressions on the device,
We really like what we've seen from the Nokia Lumia 620 so far. The smartphone is decently quick, has a nice youthful styling and arguably gives the best bang for your buck in the Microsoft camp. It's more than certain that the flashy paint jobs will resonate with a younger demographic, but it's exactly the target audience Nokia and Microsoft would want to get on board.

By the way, if Nokia gave the Lumia 620 a slightly more serious styling, it would have probably killed the HTC 8S. Instead, the Finns made it possible for the two smartphones to co-exist, thus giving the platform as a whole a better shot at growth.
Read their detailed preview from the link below.
Source: GSMArena