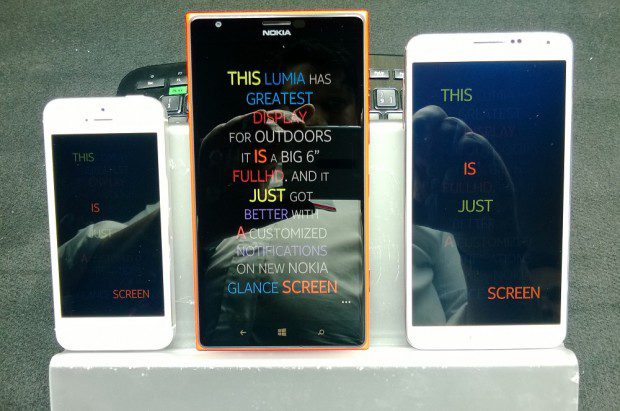 We saw the above image at Nokia World few days back. Everyone was thoroughly impressed with the outdoor viewing capabilities of the Lumia 1520. There is a secret behind this magical technology, it is called Assertive Display. Nokia is using the Assertive Display technology from Apical to make this happen.
Assertive Display delivers a high-quality viewing experience even in bright sunshine and enables dramatic reductions in display power consumption. Instead of the traditional backlight control to make the display adaptive to its environment, Assertive display's sophisticated digital processing adjusts each pixel individually in real time.
Assertive Display takes control of both the screen brightness, and of the color of each individual pixel of each video frame, and adjusts these coherently providing total control of viewing experience from total darkness to bright sunshine.
Forget the all the complex technologies behind this display, I'm sure that the consumers who are buying Lumia 1520 are going to enjoy the best full HD display experience on a mobile that is currently available on the market. What do you think?
Read full press release after the break.
Press Release:
LONDON, October 22, 2013 /PRNewswire/ —
Apical Ltd announces that the Nokia Lumia 1520 4G Windows Phone 8 smartphone is the first smartphone from Nokia to feature its revolutionary Assertive Display technology, a result of over a decade's research and development into modelling human vision.
By digitally modelling the way the eye adapts to virtually any ambient light, rather than simply adjusting the display, Assertive Display delivers a seamless viewing experience to the user from a dark room to bright outdoor light. Further, colour and contrast ratio are preserved delivering TV-like video quality without the familiar washout of earlier technologies. This new capability ensures that content previously unwatchable in daylight, such as premium sports, games, movies and photos, can be clearly viewed. Ultimately this means a more immersive, natural and comfortable experience where the display is always adapted to the user's own eyes.
Surprisingly, this increased viewability does not come at the expense of display power -in fact display power can frequently be reduced using Assertive Display, extending battery life.
Says Jussi Ropo, Head of Display and Touch Technology: "With continuous display technology innovations, Nokia is allowing people to do and see more on the display of a Nokia Lumia smartphone. The latest addition to the great viewing capabilities on a Lumia smartphone is demonstrated on the Nokia Lumia 1520 where Assertive Display nicely complements the ClearBlack promise of being able to see more anywhere, anytime – even in a bright environment."
Michael Tusch  Apical Ltd CEO says.
"We are thrilled to see Nokia implement this disruptive and powerful innovation. By combining sophisticated video processing with a deep understanding of human vision we have been able to transform the performance of almost any display technology in different lighting conditions. Content providers, including game developers, advertisers and operators can now liberate the promise and revenue potential of multimedia on 4G-enabled mobile platforms."