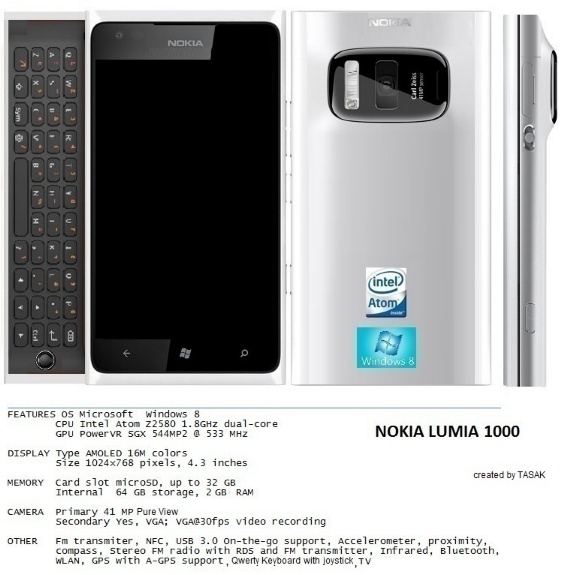 Some love them and some hate them, but they still keep popping up every once in a while.  I am talking about concept phones of course, those figments of fantasy and imagination turned into pictures and specs sheets.
Above we have Tasak's concept of what the Nokia Lumia 1000 will look like.   Interestingly his fantasy device will run Windows 8 rather than Windows Phone 8, making it more a tablet (or is that a phablet) than a phone, and will be powered by dual-core Atom processors rather than the ARM type.
The list of specs include an Intel ATOM Z2580 dual core 1.8 GHz processor, a PowerVR SGX 544MP2 GPU at 533 MHz and a 4.3 inch AMOLED 1024 x 768 pixel display. Other specs include a microSD card slot, 64 GB of internal memory, 2 GB RAM and a secondary VGA camera with 30 fps video recording (VGA). The Nokia concept also offers NFC, USB 3.0 on the go, an accelerometer, proximity sensor, compass, stereo FM radio, infrared, Bluetooth, WiFI, GPS and a QWERTY keyboard with joystick.
Don't forget the 41 megapixel Pureview camera technology and TV receiver of course.
Of course if my phone is going to run a tablet OS I would prefer the screen to be bigger than 4.3 inches (maybe 5.3 inches like the Galaxy Note) but the strangest part really is that there is in fact no reason why a device exactly like this could not be created by the end of the year.
Would our readers want this fantasy device? Let us know below.
Thanks John for the tip.