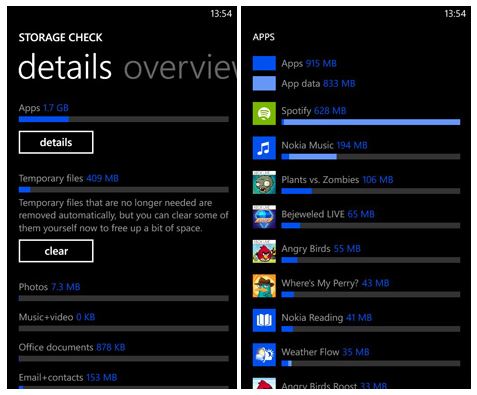 Nokia released a Storage Check settings app for Nokia Lumia Windows Phones 8 smartphones as part of the Over-The-Air firmware update released recently. With the Storage Check app you can just analyze your phone storage space including how much space your music occupies, how much apps occupies, etc,.
Details delves deeper into the storage space, showing you exact numbers in terms of megabytes or gigabytes, as well as more precise information about what's taking up the space. Unlike the standard WP storage app, you can see how much storage space your emails, music, photos, office documents are hogging. And, if you want to delete your temporary files, you can with just one tap.
Samuli Hänninen, Vice President, applications for Smart Devices, explains:
"We want to ensure that Nokia Lumia users receive the best and latest functionality for their smartphones, and we often deliver these as software updates or exclusive apps.

"Storage Check helps people control what's on their phones in a simple, fast and effective way."
Read more about it from the link below.
Source: Nokia Conversations