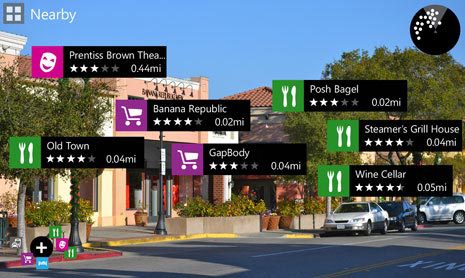 Nokia City Lens Augmented Reality app just got updated to v1.1. Nokia City Lens augmented reality browser turns the phone's camera viewfinder into a new way to spot places of interest. This app is still in its beta stage with the ability to add share locations, save searches, etc,. Nokia didn't provide any change log for this new v1.1 and we believe that this version improves performance of the app. If you were noticing issues like compass calibration item displaying on the screen for a long time and other minor issues, this update fixes them.
If you notice any changes, let us know in the comments sections below.
Update:
Change log from Nokia:
"We have been listening to you on BetaLabs and the top two reported issues were missing nearby Points of Interest and the compass calibration. Our latest release now delivers more destinations close to where you are, an improved compass calibration that takes less time and provides visual indicators, and the ability to view the Point of Interest detail in landscape or portrait views for better flexibility. We appreciate your input and will continue to make changes to Nokia City Lens based on your feedback."
Download the app here from your Nokia Lumia device.