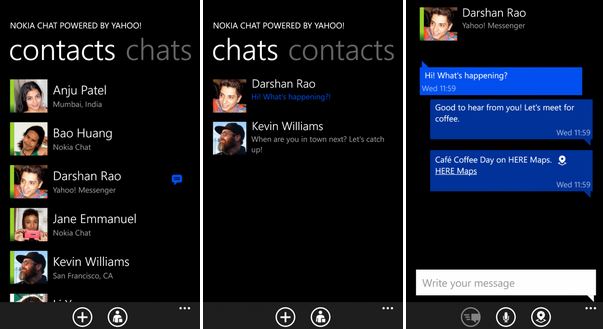 Nokia has updated their Nokia Chat app for Windows Phone devices. This new v1.3 update now features improved performance, offline support and more. Nokia Chat beta app already supports one to one messaging, push notifications, ability to share location, song samples, etc,.
Change log:
Faster Startup – When you start Nokia Chat from a pinned tile or the app list, you'll immediately see your contacts list and have access to past messages, while we simultaneously update both in the background after a network connection has been established.   Previously, you had to wait for these updates to complete before being able to use Chat.

Improved Performance and Responsiveness – Your contacts list and conversation threads will now load faster, and scrolling through both will be much quicker.

Offline Mode – Starting Nokia Chat without a data connection?  No problem!  With our new offline mode, you'll be able to read past messages and see a cached copy of your contacts list.  If your data connection returns while you're inside Chat, simply tap the connect button: we'll re-enable message sending, retrieve new messages, and update your contacts list.
via: Nokia Beta Labs