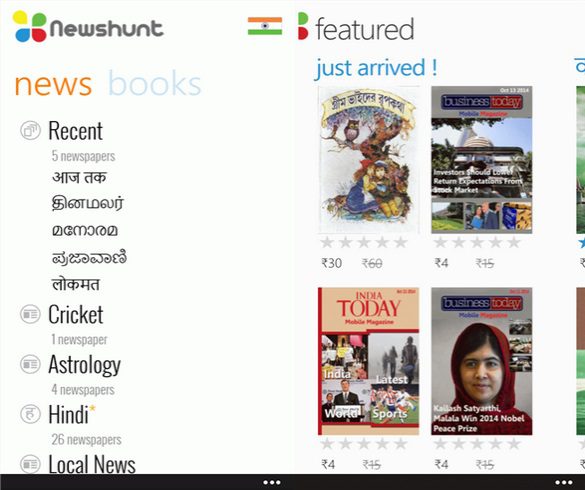 NewsHunt is a mobile newspaper app that brings together news from 85+ regional newspapers in 11 languages from India. This app was updated today in Windows Phone Store with support for eBooks, notifications and more.

What's New:

– Bug fixes and performance improvements
– Our biggest Upgrade to the app with eBooks, Notifications and Newspaper upgrades
– Search, download and read eBooks in your regional languages
– Supports ebooks in 9 languages (Hindi, English, Tamil, Telugu, Marathi, Malayalam, Gujarati, Bengali & Kannada)
– Exciting Offers on eBooks
Book Store/Reader Features:
•?Browse, download and read the largest collection of regional language eBooks. Read authors including Surendra Mohan Pathak, Chetan Bhagat, Rajesh Kumar, Sudha Murthy, Kannadhasan, and Deepak Chopra as well as international best selling authors.
•?Choose from thousands of free ebooks such as The Adventures of Sherlock Holmes to Alice in Wonderland
•?Easily shop for ebooks, including new releases in every category including New York Times® best sellers.
•?Read mobile optimized magazines & magazine singles (single articles) from leading magazines like Saras Salil, Caravan, Stardust, Champak, Savvy, Grihshobha & Manohar Kahaniyan.
•?Pay using your mobile phone in addition to your credit/debit cards – Buy eBook using your mobile operator. Available for Indian customers only.
•?Customize Your Reading—Choose your preferred font size, and background colour to read your books.
Download it here from Windows Phone Store for free.