Is Copilot the best AI companion out there? Help us find out by answering a couple of quick questions!
Microsoft spent a lot of time discussing how a common core and cloud services unite their various platforms.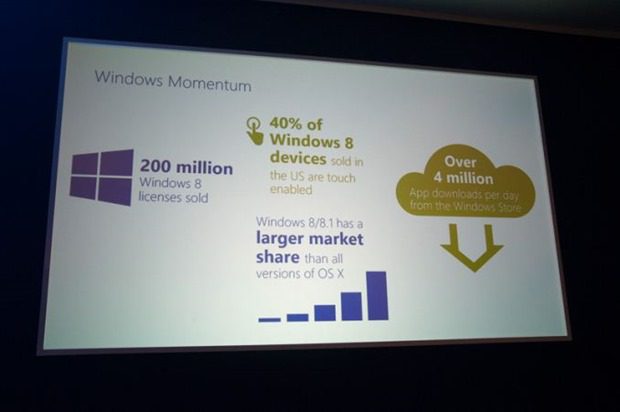 Joe emphasizes the momentum of Windows 8, with more than 2000 license sales, 4 million downloads per day from the store, and a large complement of touch-enabled devices in USA. He noted on touch-based devices users were (obviously) more satisfied with Windows 8 than Windows 7. A Spring update will be coming with will make Windows 8 also more friendly to Mouse and Keyboard users.
Windows 8.1 Update 1 will bring:
– Improvements to non-touch experience
– More hardware options (including at low end)
– Improvements for government and education markets via IE8 compatibility mode in IE11.
Windows 8.1 will now only require 1 GB of RAM and 16 GB of storage.
Onto Windows Phone, Joe said Windows Phone 8 is now the 3rd most popular OS.  He said 2013 was a good year for Windows Phone with enough volume to get developers excited.
The slide below shows USA continues to be Windows Phone's most challenging market, with only 9% YoY growth.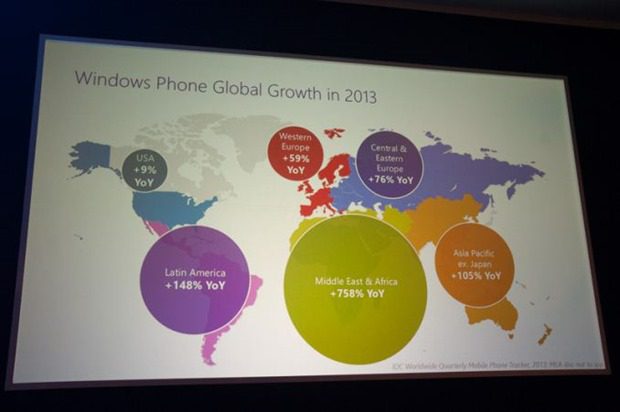 In UK however the Nokia Lumia 520 was the 3rd best selling smartphone in December, presumably behind the iPhone 5S and 5C and beating all Android handsets, which is great news.
Joe said there was now 245,000 apps in the Windows Phone Store, 4 Billion + downloads, 12 million transactions per day.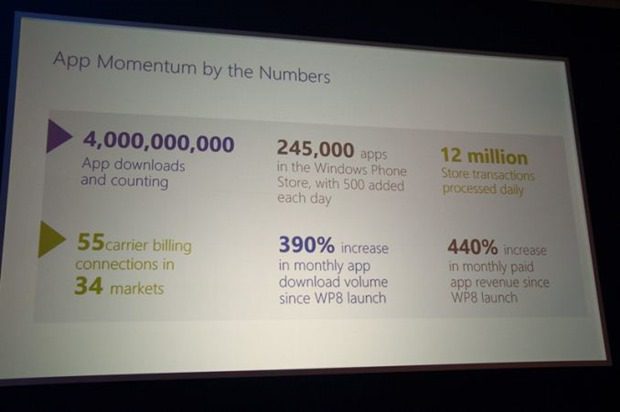 Facebook Messenger was also coming to Windows Phone.
Microsoft once again promised the coming enterprise pack with VPN support amongst other features.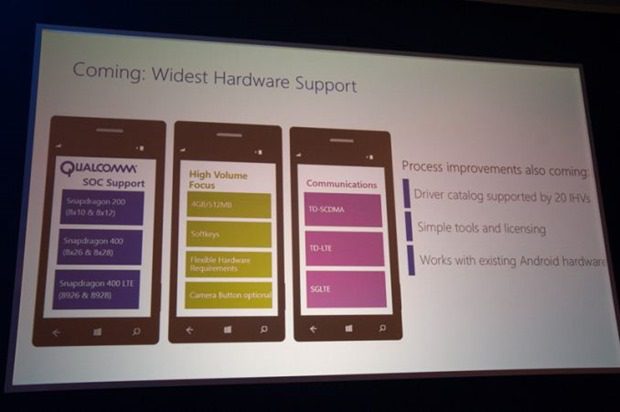 Microsoft is once again lowering the hardware requirements for Windows phone, to 512 Mb RAM and 4 GB storage, and are making sure the OS works on existing Android hardware, to make it easier for OEMs to license and use.
Microsoft also announced Dual-SIM support for the OS.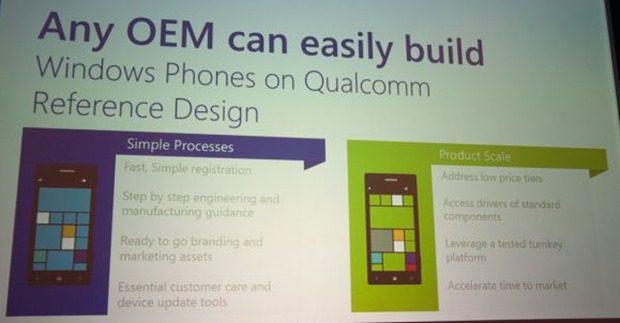 Microsoft also announced that it will now be simpler for OEMs to turn a Qualcomm reference design into a Windows Phone heading for shelves.
OEMs will be able to get support from the Windows Phone Hardware Partner Portal. Microsoft expects to see white label Windows Phones in the future.
Microsoft formally announced the addition of Lenovo, ZTE, Xolo, Karbonn, LG and Foxconn to HTC, Nokia, Samsung and Huawei.

Together these OEMs presented 56% of phone shipments worldwide.
Via Anandtech