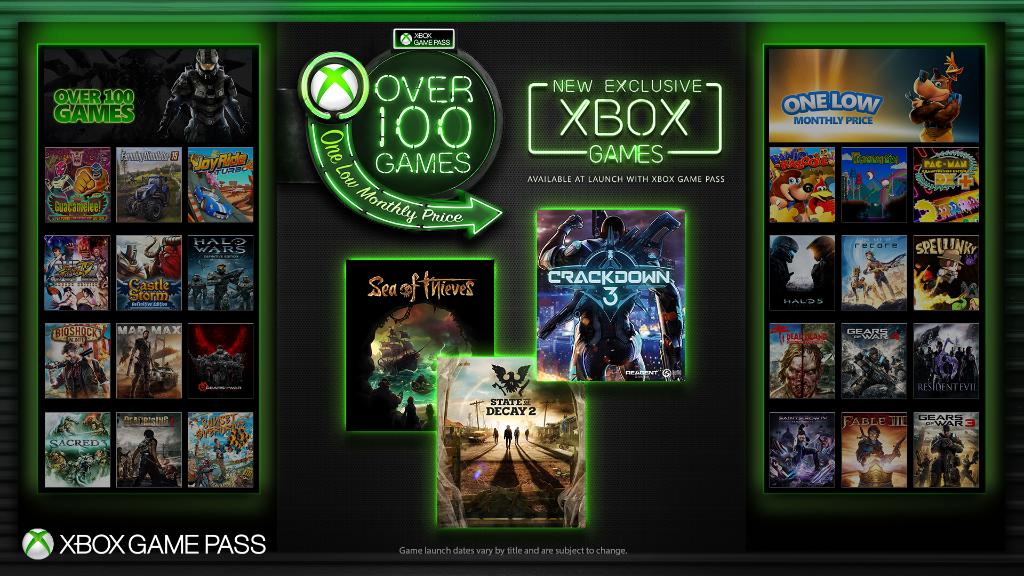 Microsoft has just increased the value of its Xbox Game Pass service exponentially. Announced this morning, the company revealed that it plans to release all new Xbox One exclusive games from Microsoft Studios into Xbox Game Pass on the same date as their global release going forward.
The first title to hit the service under this new expansion will be Sea of Thieves on March 20. When it releases around the world at retail and digital storefronts, it will also be added to Xbox Game Pass for subscribers to enjoy. Games like Crackdown 3 and State of Decay 2 will also be launching into Xbox Game Pass the same day you can pick them up at retail, as well as other unannounced Microsoft Studios titles from franchises like Halo, Forza, and Gears of War.
To accompany this expansion announcement, it was revealed that Microsoft is working closely with retailers like GameStop to offer 6-month Xbox Game Pass subscription cards for $59.99. It will be available at select retailers on March 20, the same day Sea of Thieves releases.
Last year, Phil Spencer stated in an interview with The Guardian that he and Shannon Loftis talked about how a service like Xbox Game Pass could benefit narrative-focused single-player games as audiences for those experiences aren't as "consistent" and it's a difficult business decision to finance them.
"I've looked at things like Netflix and HBO, where great content has been created because there's this subscription model," Spencer said. "Shannon Loftis and I are thinking a lot about, well, could we put story-based games into the Xbox Game Pass business model because you have a subscription going? It would mean you wouldn't have to deliver the whole game in one month; you could develop and deliver the game as it goes."
While this announcement covers Xbox exclusive Microsoft Studios games going forward, it looks to be a first step that could make his previous comments a reality.
Xbox Game Pass is a monthly subscription service that gives players access to a rotating catalogue of over 100 digital games, including titles on Xbox One and Xbox 360. In addition to downloading the games directly to your console for the best experience, you will also receive discounts on certain games and related add-ons. Xbox Game Pass costs $9.99 a month, but you can start a 14-day free trial today.