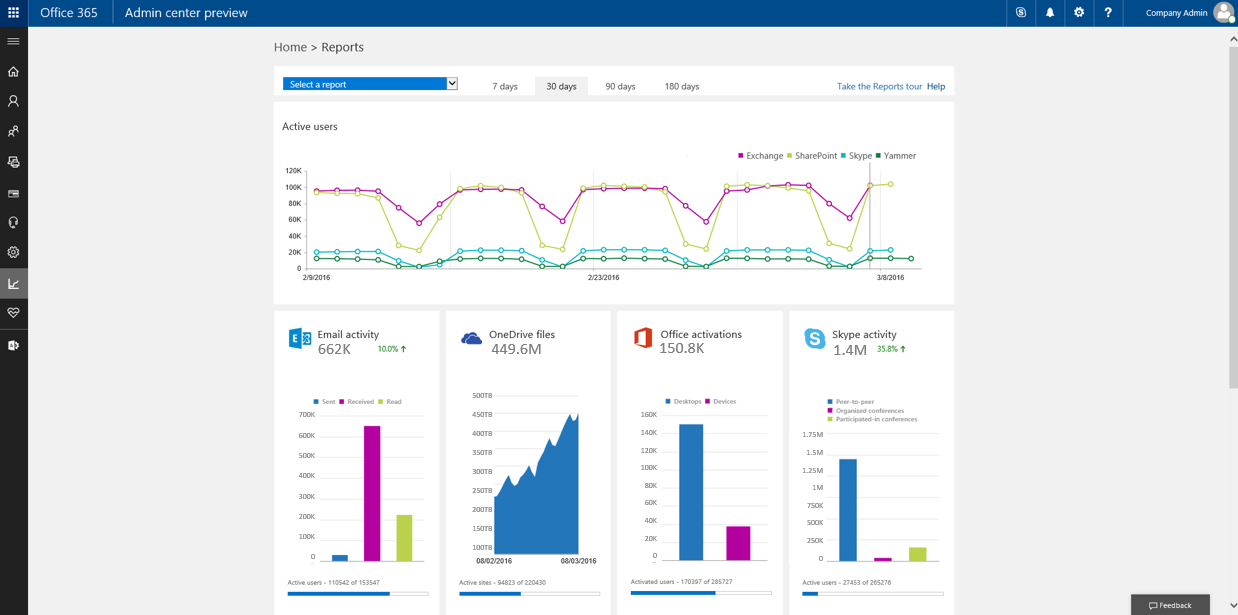 Microsoft today announced the rollout of usage reports for SharePoint, OneDrive for Business, Skype for Business and Yammer, which give IT greater visibility into usage across these services in Office 365. The following reports are now available for Office 365 Admins,
Activity dashboard (also called reporting dashboard)—Provides you with a high-level overview of how many people in your organization are using Office 365. Each service in the suite, such as Skype for Business and Exchange, has its own tile that surfaces key activity data, making it easy for you to get a quick understanding of the activity within that service. To view detailed information by service or by individual user, simply click the specific tile or use the drop-down menu at the top of the reporting dashboard.
Email activity report—Enables you to understand email usage, such as send, receive and read activity. It also enables you to monitor trends in email traffic, and can be especially helpful in scenarios such as user migration.
Office activations report—Shows which users who have been assigned an Office 365 license have signed into Office 365 on at least one device, including a breakdown by device type. This report helps you identify users who have been assigned a license but have not yet activated it, so you can provide assistance as necessary.
SharePoint site usage report—Provides you with storage consumption details across all your SharePoint sites. The report helps you see activity across sites, how much storage is available per site and how the sites are being used for file storage.
OneDrive for Business usage report—This report helps you understand storage and sharing activity across OneDrive for Business, including number and size of files stored, in aggregate and per user.
Skype for Business report—Shows Skype for Business usage, with details such as minutes spent in a Skype Meeting and with breakouts on peer-to-peer activity such as IMs and calls, meetings organized and meeting participation.
Yammer report—Provides details on Yammer engagement—breaking out Like, Read and Post activities.
These new reports are now rolling out to Office 365 customers in the U.S., Australia and Canada, and will begin rolling out to customers in Europe, Latin America and Asia in May. Read more about it here.