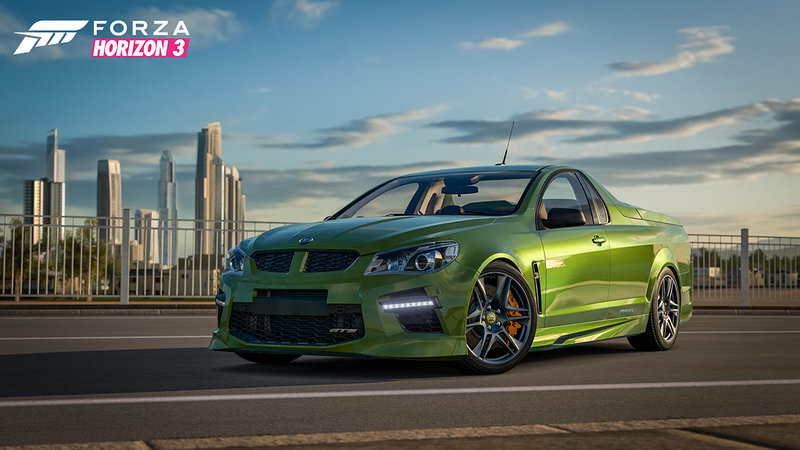 In this week's edition of the Forza Horizon 3 Garage, Microsoft is announcing new cars which includes legendary '74 Sandman panel van and an early 1950s Ute car. They also got cars like 1992 Bugatti EB110 Super Sport, 1970 Chevrolet Corvette ZR-1 and Australian muscle in the 1973 XB Falcon GT.
Forza Horizon 3 will feature more than 350 cars – from the finest examples of precision engineering to some of the toughest and hardest-working trucks and buggies in the world. Let's dive into week two of the Forza Horizon 3 Garage, and see what awaits!
Find the full week 2 list of cars below.
| | | |
| --- | --- | --- |
| 2007 | Alfa Romeo | 8C Competizione |
| 1970 | AMC | Rebel "The Machine" |
| 1998 | Aston Martin | V8 Vantage V600 |
| 2011 | Audi | RS 5 Coupé |
| 2011 | BMW | X5 M |
| 1981 | BMW | M1 |
| 1992 | Bugatti | EB110 Super Sport |
| 1970 | Chevrolet | Corvette ZR-1 |
| 1966 | Chevrolet | Nova Super Sport |
| 2008 | Dodge | Viper SRT10 ACR |
| 1969 | Ferrari | Dino 246 GT |
| 1968 | Ferrari | 365 GTB/4 |
| 2011 | Ferrari | FF |
| 1978 | Ford | Mustang II King Cobra |
| 1956 | Ford | F-100 |
| 1991 | GMC | Syclone |
| 2016 | Holden | Special Vehicles GTS Maloo |
| 1951 | Holden | 50-2106 FX Ute |
| 1974 | Holden | Sandman HQ panel van |
| 2012 | Infiniti | IPL G Coupe |
| 2015 | Jaguar | XFR-S |
| 1997 | Lamborghini | Diablo SV |
| 2014 | Lamborghini | Urus |
| 2014 | Land Rover | Range Rover Supercharged |
| 2005 | Lotus | Elise 111S |
| 2013 | Mazda | MX-5 |
| 1990 | Mercedes-Benz | 190E 2.5-16 Evolution II |
| 2013 | Mercedes-Benz | E 63 AMG |
| 1999 | Mitsubishi | Lancer Evolution VI GSR |
| 2008 | Mitsubishi | Lancer Evolution X GSR |
| 2000 | Nissan | Silvia Spec-R |
| 1977 | Pontiac | Firebird Trans Am |
| 2010 | Renault | Megane RS 250 |
| 2008 | Subaru | Impreza WRX STi |