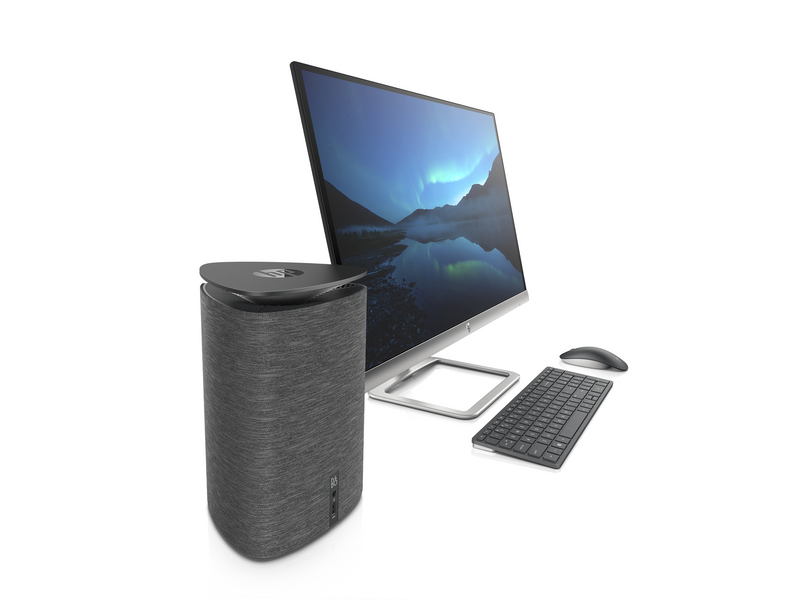 At IFA 2016, HP today debuted HP Pavilion Wave, a stylish new desktop PC that delivers unique experiences that customers expect in small, creative designs. The HP Pavilion Wave is designed for customers who want a PC that can fit into small places, the new offering is a beautiful and compact design with the power of a full-sized desktop.
It features an iconic triangular form with an innovative parabolic reflector with an integrated speaker on top of the PC for superb, 360-degree sound to fill a room with crisp audio. It is 85 percent smaller than traditional tower PCs at 6.81″ x 6.62″ x 10.29″. Imagine the Wave as a beautiful speaker that can also act as a PC.
The desktop design is built around the central audio system and finished with premium materials including acoustic fabric engineered for room filling sound. A parabolic reflector on top of the PC reflects the sound coming from the speaker grille in parallel from all directions and acts as an outlet vent for hot air to come out. The 360 Degree Multi-Directional Reflective Audio delivers a crisp audio profile at all frequencies and is tuned by B&O Play for amazing sound whether listening to mid, high or low ranges.
The triangular design houses three main zones for components: the motherboard on one side, the hard drive on the second side and thermals on the third side. The thermal design uses heat pipes to extract heat from the motherboard and the graphics card to push out the top of the PC to keep the device running cool.
Other features include:
Up to two 4K displays are supported out-of-the-box to power entertainment and productivity.
Peripheral support with three USB 3.0 ports, one USB 3.1 Type-C port for data transfer, one HDMI port, one DisplayPort, Gigabit Ethernet and a microphone/headphone jack.
Cortana support with two dual microphones for customers to talk to their PC for a hands-free experience.
High-performing power house with up to 6th Generation Intel Core i7 quad-core desktop processors, ample storage up to 2 TB HDD5, an optional dual drive with 128 GB SSD5 and up to 16GB of DDR4 system memory.
 Optional AMD Radeon R9 M470 discrete graphics for photo and video editing or light gaming.
HP Pavilion Wave starting price is $549.99 and is expected to be available at select retailers and HP.com on September 23, 2016.