First and foremost, the new Windows Phone boot logo. Even the Windows Phone logo has gone Metro, Its now flat, square in shape and orange/mango in color.
Now coming to features,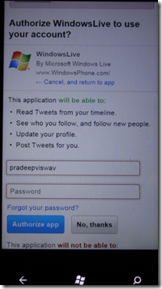 1) Ability to add Twitter account. Authorize it for the first time, you can now tweet from your me tile ! ! Also with Live time support for your mentions.No  DM notifications though.:-( .When you tweet photos from built in twitter integration, the photo goes to a "twitter uploads" folder on SkyDrive.
2) Ability to add LinkedIn account. Authorize it for the first time and you have ability to post on LinkedIn and more.
3) I find Zune/ Music+Videos hub more responsive and its really fast.
4)  Some 3rd party apps like Birdsong, pageonce which had issues like IE embed, now works fine.
5) Adam Z Lein have noticed the new New Visual Voicemail interface in Mango 7712. I can't confirm, since my carrier don't support them. Update 1: Pocketnow have posted the New Visual Voicemail UI.
6) New 'me' icon in Bing Maps.
7) The already controversial Shuffle Play button in the Music hub, which was moved to the bottom of the screen, and therefore did not immediately indicate what kind of media it played, has changed from the traditional triangle to music notes.  Of course now it is even less clear what the button does, but the function is the same – random music playback (thanks Cless6).
8) In the People Hub, Groups no longer have icons (thanks RadiusK)
9) When task switching, the Start page is no longer shown, unless one starts from there. (thanks peeder)
10) Arial view can now be toggled on at any zoom level (thanks Rlatarche)
11) There is now a sound associated with copying and pasting (thanks peeder)
Source: @sayonical, @Fanaticus14
Will update the post once more changes are found.