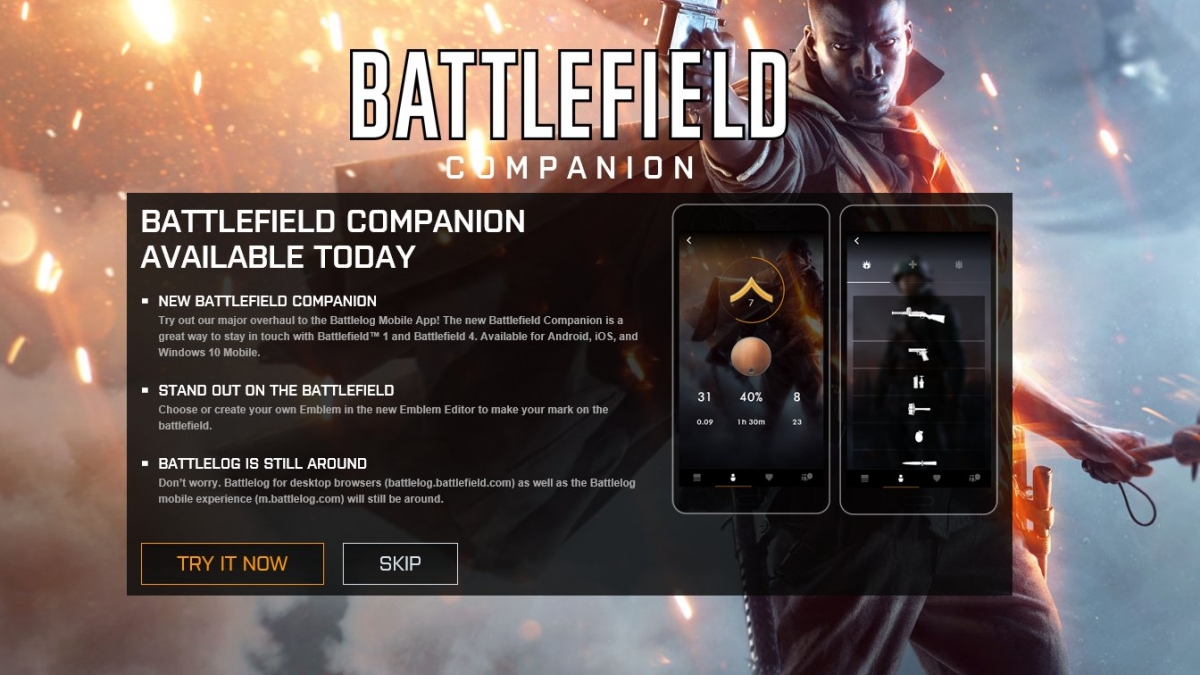 Dice's new Battlefield Companion App for Battlefield 4 and Battlefield 1 may hit the app stores very soon, with their app page claiming the app is coming today (Battlefield's release now says the 18th October)
The app, which supersedes but does not replace the Battlelog app, features an improved look, better navigation, a Careers page which highlights your achievements and progress and that of your friends.
It also features a customization feature that allows users to choose a loadout on their phone and then use it in Battlefield 1 when they get home.
The app should launch with the Battlefield 1 game on the 21st October.
Battlefield 1 brings the franchise back in time, taking it from the modern day to the very first World War. In a way it harkens back to the beginnings of the franchise, but takes it even further back than 1942. World War I is an era that games don't explore very often, and there's a lot of areas (both physical and thematic) that could be explored in a campaign. Battlefield 1's open beta already showed that the game's multiplayer was treating the setting with respect, and the game's new trailer for its single player campaign looks like it does, too.
It seems like an interesting attempt at storytelling, and it'll be possible to play through Battlefield 1's campaign when it launches October 21st. If you'd like to pre-order the game digitally for your Xbox One, you can find it here. If you'd like to buy a physical copy from Amazon, you can find that here.