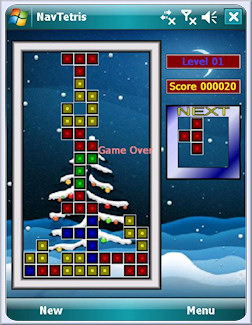 Navtris is a small Christmas-themed Tetris game for the HTC Touch Diamond and Pro which makes use of the unique hardware on the devices.
Using the device sensors, the Tetris bricks can be moved and rotated based on the readings from accelerometer and scrollwheel sensors.
Playing instructions:

Bricks can be moved by tilting your device to the left or right, or by using the left or right key.

Bricks can be rotated by using the scrollwheel (both directions), or by using the up/enter key (only clockwise direction).

Bricks can be dropped to the bottom by using the "down" key.
See the video below for the app in action.
Cab files for installing the game can be downloaded from this XDA-Developer thread here.