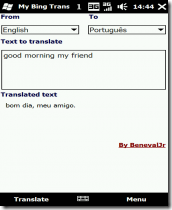 My Bing Translator is translation software using the online translator at www.microsofttranslator.com.
The freeware support translation for multiple languages, with the  language list updated constantly. The application does not use much traffic as it works directly through the Microsoft API, which should be useful when using when roaming.
The software is currently on version 1.01 and can be downloaded here.
The application requires .Net CF 3.5, available here.