The holidays are quickly approaching and, to make your holiday shopping so much easier, we've put together a special Xbox Holiday Gift Guide gift guide for all things Xbox!
Whether you're looking to pick up an entire console and some games, just get something small but meaningful for a loved one, or if you're looking to treat someone on a budget, we have something for you!
This guide has been helpfully broken down so that even the most technologically-illiterate person can shop for the best present. If you're a seasoned gamer, you can skip over the "The Basics" section and get straight to the gifts.
A note for all the parents out there: Fortnite Battle Royale is completely free to download and play. If your kid is asking for your credit card details so they can buy Fortnite, they're either trying to buy the paid Save The World mode or they're trying to buy the in-game currency known as V-Bucks. Be smart and financially safe this holiday season!
[shunno-quote]XBOX ONE BUNDLES[/shunno-quote]
All Xbox One consoles are backward compatible, meaning they can play certain Xbox 360 and even original Xbox games. They also have built-in 4K Ultra HD Blu-ray players, 4K streaming with HDR and Dolby Vision, and premium audio with Dolby Atmos and DTS:X support. To put it simply: they're good.
The Basics: You'll want a console with a large amount of storage (1TB is the ideal minimum) because, let's face it, the download size of games these days is getting ridiculous and 500GB just won't cut it. Luckily, all the bundles below come with 1TB of storage!
The Xbox One X is a console for getting the most out of games, with top performance and high definition graphics, while the Xbox One S is ideal for those who don't need all the latest tech to be happy. Newer gamers or those who don't need cutting-edge everything will be content with a One S.
As it's not as powerful as the One X, the One S is cheaper. Don't worry though – you're still getting an excellent console for an excellent price!
If you're not too sure which console is right for you or someone else, Microsoft has a very helpful quiz for picking out the correct console.
---
Are you a Star Wars fan? Are your tickets for The Rise of Skywalker already pre-booked? Then you might be interested in the Star Wars Jedi: Fallen Order Bundle. It comes with a 1TB Xbox One X console, an Xbox Wireless controller, a full download of the Deluxe Edition of Star Wars Jedi: Fallen Order, a 1-month trial of Xbox Game Pass for console and Xbox Live Gold, and 1-month of EA Access for just $499.
If you're into Star Wars Jedi: Fallen Order but think the One X is just a bit too much, no worries! There's a 1TB Xbox One S Star Wars Jedi: Fallen Order bundle that contains all the same bonuses as the One X bundle, but with a One S instead. It's also $200 less than its One X counterpart, going for just $299.
More into shooter games? The Gears 5 Limited Edition Bundle is currently $100 off and going for just $399! It contains the Gears 5 Limited Edition 1TB console, the Kait Diaz Limited Edition controller, a full download of Gears 5 Ultimate Edition, Gears of War Ultimate Edition, and Gears of War 2, 3, and 4. It also has a 1-month trial of Xbox Game Pass and Xbox Live Gold.
If you're not into the design, you can also get a normal-design Gears 5 Xbox One X bundle (although it comes with all the same games and bonuses!) for the same price.
There's also an Xbox One S Gears 5 Bundle which sadly lacks the limited edition design of its One X equivalent, but is a whole $100 less! This bundle comes with a One S console, controller, a full-game download of Gears 5, a full-game download of Gears of War Ultimate Edition, full-game downloads of Gears of War 2, 3, and 4, and a 1-month trial of Xbox Game Pass and Xbox Live Gold. All that for just $299!
While we're on the subject of Special Edition bundles – the 1TB Xbox One X NBA 2K20 Special Edition bundle features the extremely pretty Hyperspace console, NBA 2k20, a wireless Hyperspace controller, and a 1-month trial of Xbox Game Pass and Xbox Live Gold for a currently discounted price of $399.
Once again, if you're interested in NBA 2k20 but think the Hyperspace console isn't the prettiest thing you've ever seen, you can also get a normal-design Xbox One X NBA 2k20 bundle that comes with all the same bonuses for the same price.
If you still want the NBA 2k20 bundle but would prefer it on Xbox One S, guess what! We've got that. It's just $299 and comes with all the same things as the One X bundle, but with a normal-design One S console and controller instead.
Are you looking to go disc-less this holiday season? You can get the Xbox One S All-Digital Edition bundle, featuring an Xbox One S 1TB All-Digital Edition console, an Xbox Wireless controller, Minecraft, Sea of Thieves, and Fortnite Battle Royale (featuring a free download of the Legendary Rogue Spider Knight skin) for just $249!
Note: The All-Digital Xbox One S is all-digital. That means it lacks a disc drive, so disc-based games and DVDs are completely out of the question. If you're buying this console as a gift for someone, it might be an idea to also get them an Xbox Gift Card so they can pick up some digital games for themselves!
If you're not into game-based bundles, you can pick up the Xbox One S Two-Controller Bundle (1TB) that contains an Xbox One S console, two Xbox Wireless controllers, a 3-month trial of Xbox Game Pass, and a 14-day trial of Xbox Live Gold for just $299. While this console does have a disc drive, you still might also want to get an Xbox Gift Card so you or your lucky recipient can buy games of your choice straight from the store!
[shunno-quote]XBOX ONE CONTROLLERS[/shunno-quote]
All Xbox One controllers are also compatible with Windows 10, meaning you can play on both console and desktop. That means that if you know someone who loves to game on a computer but doesn't have an Xbox One, they can still get in on the action!
Are you looking to get a custom Xbox One controller for yourself or a loved one? You can, thanks to the Xbox Design Lab! Prices start at just $69.99, with small increases based on how many special customisations you want. The price maxes out at $102.95 if you want all the added extras plus a personalised laser engraving.
Are you an NFL fan or know someone who is? You can get a specially designed custom NFL controller for just $84.99! You can also add Rubberised Grips for just $5.99 and you can even add a personalised engraving for absolutely free. Go sportball!
Do you know someone who's mad about Fortnite? The Fortnite Special Edition Xbox Wireless Controller will be perfect for them and, to make things better, it's currently discounted to just $54.99! This controller sports an Epic purple design and comes with the in-game Legendary Dark Vertex outfit and 500 V-Bucks.
If you're looking to shell out a little bit more cash in exchange for quality, the Xbox Elite Wireless Controller Series 2 will be absolutely perfect. While it sports a price tag of $179.99, it's 100% worth it for the adjustable-tension thumbsticks, shorter hair trigger locks, wrap-around rubberised grip, and re-engineered components. This controller is made for serious gaming.
You're not just paying for the controller, though. This is what you get in the box:
Xbox Elite Wireless Controller Series 2
Carrying case
Set of 6 thumbsticks: Standard (2), Classic (2), Tall (1), Wide Dome (1)
Set of 4 paddles: Medium (2), Mini (2)
Set of 2 D-pads: Standard, Faceted
Thumbstick-adjustment tool
Charging dock
USB-C cable
Looking for something a little more cyberpunk? The Phantom White Special Edition Xbox Wireless Controller features a translucent white design so you can peer at the inner workings of your controller. It's also on sale for just $59.99 right now. You can also get it in Black!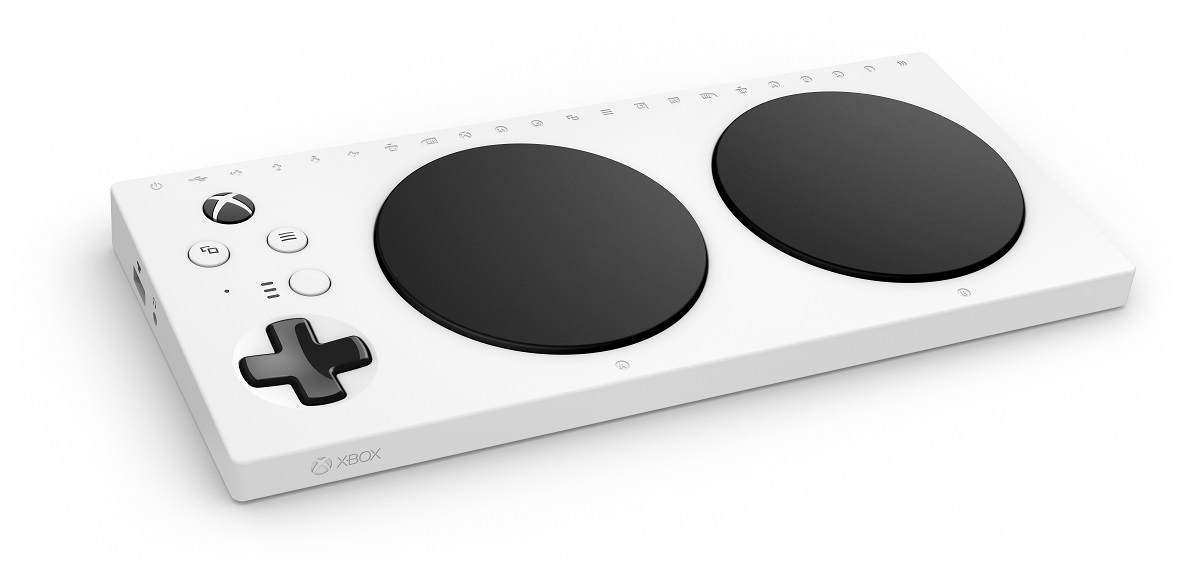 Gaming is for everyone and the Xbox Adaptive Controller is the best way to make sure every single person is included. Designed primarily to help meet the needs of gamers with limited mobility, the Adaptive Controller makes gaming more accessible. You can also connect up external devices to make gaming fun and enjoyable for everybody. It's also just $99.99, which is a steal for what the controller can do.
For the Minecraft lover in your life (whether that's you or someone else), you can pick up the adorable Minecraft Pig and slightly-less-adorable Minecraft Creeper Xbox Wireless Controllers for just $69.99 each!
[shunno-quote]XBOX ONE ACCESSORIES[/shunno-quote]
Are you all about the aesthetic and think mounting your console to the wall would be awesome? If so, you can pick up an Xbox One S Wall Mount or an Xbox One X Wall Mount for just $37.99 and $39.99 respectively! Pros of mounting your Xbox One to your wall include that it's protected from accidental damage and that it looks really cool.
You can also pick up Controller Wall Mounts, if you're really into mounting things to walls. These cost just $24.99 for two. Wall mounts also make excellent gifts for friends with young children, ensuring that consoles and controllers are safe from mischievous hands.
Looking for a headset? The Xbox One Stereo Headset goes for a very affordable $59.99 and gives you a premium audio experience with comfortable ear pads and a unidirectional microphone. While it's not the fanciest headset out there, it definitely gets the job done and would suit any casual gamer.
If you're willing to go for a higher price range in exchange for a more defined experience, the Astro Gaming A40TR Headset + MixAmp M80 provides total control over your gaming audio experience for $199.99. It features a swappable boom mic and customisable Speaker Tags, with the MixAmp M80 mounting directly onto the Xbox One controller so all the controls are literally at your fingertips. This headset is quite popular among streamers.
The SteelSeries Arctis 9X Gaming Headset is also $199.99 and has a slight advantage over the Astro Gaming A40TR in that it's completely wireless. The Arctis 9X uses Bluetooth audio, ClearCast bidirectional microphone, and award-winning Arctis sound to make this headset one of the best choices for gamers. It's also designed for comfort, keeping your head cool and comfortable at all times.
Note: As it's wireless, this headset will require charging.
[shunno-quote]GIFT CARDS[/shunno-quote]
Not too sure what someone would want? You can't go wrong with an Xbox Gift Card!
While the link will take you to a $75 gift card, you can easily change it to almost any amount between $1 and $100. That means if you're part of a gift swap where the limit is $10, you can just pick up a $10 gift card.
Xbox Gift Cards aren't just for games – they can be used to purchase films, TV shows, apps, Xbox Live Gold subscriptions, Xbox Game Pass memberships, and even on devices including consoles and bundles.
They can also be used on both Xbox consoles and Windows PCs so, if you're not sure if someone's a console or PC gamer or even if they're both, the Xbox Gift Card is flexible to their needs.
Gift cards also never expire!
Note: Gift cards can only be used online, which means they won't work at physical Microsoft Stores (those are the ones you physically go and visit). They will work with the online Microsoft Store, though!

Gift cards are also only available in local currency, so for example: if you're in the US and buying a gift card for a UK friend, you'll have to go through the UK Microsoft Store.
---
Our Xbox Holiday Gift Guide is subject to change if items listed change prices or if anything new appears! If you want gift advice, you can also leave a comment and we'll try our absolute best to help you out with holiday shopping.
You can also check our Gaming section every day to see if any new or interesting deals have popped up.
Just in case you need a reminder of when holidays are this year:
Christmas will run as it traditionally does, on the 25th of December.
Kwanzaa will also run as it usually does, from the 26th of December until the 1st of January, 2020.
Hanukkah is set to run from the 22nd of December until the 30th of December.
Disclaimer: This article contains affiliate links. MSPU can gain money from these links, which all goes towards paying our writers and improving our site so we can bring you the best Microsoft and gaming news. Thank you for your understanding!