Last week Motorola revealed its Moto Z smartphone with its modular expansion system, the MotoMods.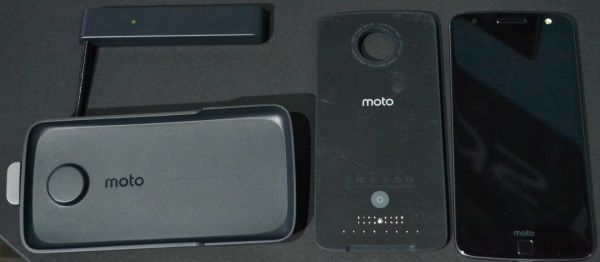 One of the MotoMods is the OneCompute module which is a somewhat clunky combination of a clip-on module for the phone and a wireless dock with an HDMI port for your TV and 3 USB ports.
The device is able to seamlessly connect to the display when placed into the dock, and Motorola boasts about low latency and high performance, enabled by using a special wireless protocol by Keyssa technologies.
The onscreen UI is basically Android but with the launcher showing 3 panes of the home screen at the same time.
At present the feature is just a concept, with the USB ports for example not yet supporting connecting a mouse or keyboard.
Compared to Microsoft's Continuum the solution has advantages and disadvantages.
On the plus side it allows full multi-tasking and also side by side windows which can be cut and paste from. In many ways this offers a more PC-like experience than Microsoft's Continuum for phones, especially when running Microsoft's own Office Apps on Android.
Another major advantages is of course having access to all the apps in the Android Play store, rather than just UWP apps in the already limited Windows Store.
On the other hand it is clear than Motorola's implementation is still a pretty rough concept which is far from mature. Microsoft's solution is much more well thought through, from small touches such as letting you use your phone as a mousepad and keyboard to bigger features, such as using a standard USB-C port and being able to project your Continuum screen wirelessly on any Windows 10 PC running Anniversary Update.
For desktop users Microsoft's UI will also be a lot more familiar compared to Android with a mouse and keyboard, and Microsoft hopes to take advantage of the large Windows 10 desktop user base to provide the desktop UWP apps which would make the whole concept make sense.
Despite OneCompute simply being a concept at present, Windows Phone users should welcome its arrival, as it may provide the competition Microsoft needs to remove the limitations which make Continuum an incomplete solution, in particular not being able to multi-task easily and use multiple windows on the desktop, the issue which ultimately doomed Windows 8.
This would prepare Microsoft to face the much bigger threat, which is when Google fuses ChromeOS and Android OS, and enables every Android user to access a desktop OS by simply connecting a screen, something which could provide an existential threat to Windows itself.