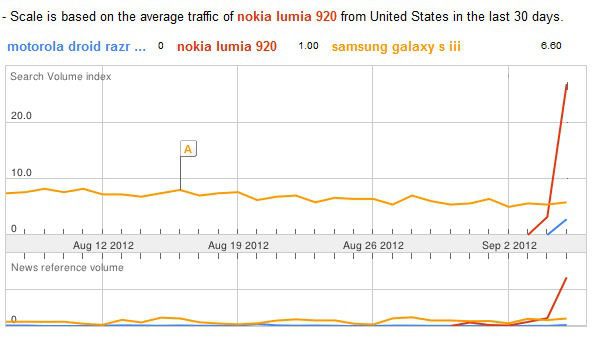 Motorola chose to launch their new Motorola Droid range on the same day as Nokia launched their Windows Phone 8 range, and Google must have thought with 1.3 million Android handsets activated per day they could simply ignore Nokia's event, calling theirs "the day's main event".
Now 24 hours later, and by all measures their event was an embarrassing failure in terms of interest generated.
Simply looking at Google Trends, one can see the search volume for Nokia Lumia 920 (red) was 10 times more than for the Motorola Droid Razr HD (blue). The interest even exceeded the baseline set by the Samsung Galaxy S III (orange) (although that is not for a launch of course).
In the mean time, there are 17.5 million search results for the Motorola Droid Razr HD, which sounds like a lot, but pales compared to the 66.8 million results for the Nokia Lumia 920.
Lastly, in terms of actual news stories, the Motorola Droid Razr HD (that gets very tiring to type) generated only 5,700 stories on Google news, while the Nokia Lumia 920 generated 81,300.
Analysts reacted pretty negatively to the announcement of the Nokia Lumia 920 but may have missed the possibility that this and not the Droid, was the phone the public is searching for.