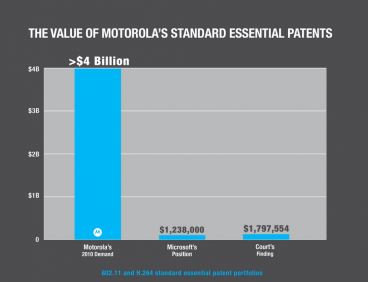 Google's Motorola had been seeking about $4 billion from Microsoft around patents related to the the H.264 video standard and the 802.11 wireless standard. Since all these are FRAND patents, Microsoft asked court to determine reasonable price for these patent licensing. U.S. District Judge James Robart yesterday ruled that Google's Motorola  is entitled to get only about $1.8 million a year from Microsoft for its use of FRAND related  patents.
In making its determination, the court noted that there are some 92 different entities with patents essential to 802.11 networking. If each of them got the 1.15 percent to 1.73 percent royalty that Motorola wanted, the cost of wireless networking alone would exceed the price of the Xbox Microsoft was using it in.
Just notice the difference between Motorola's demand and courts ruling!
Source: ATD