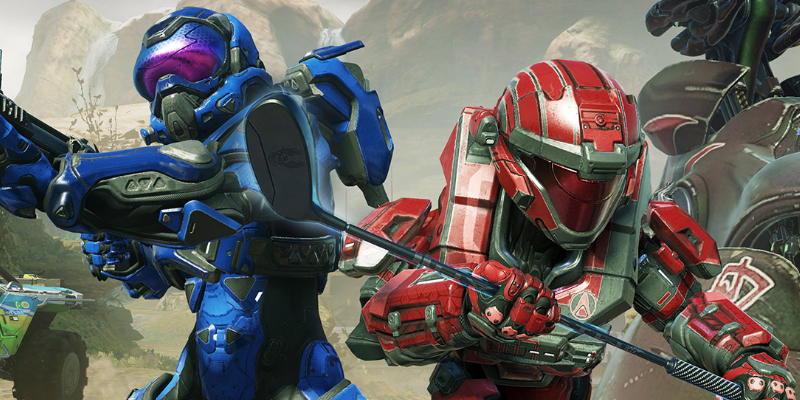 Both Halo 5 and Halo 5: Forge are getting a huge update today. Titled Monitor's Bounty, the update brings in plenty of new features, REQ items, and even adds announcer packs to the game. According to Brian Jarrard, the community manager at 343 Industries, the update is currently rolling out.
Monitor's Bounty adds improvements all over the game's multiplayer side. One of the biggest editions is something that the Halo franchise hasn't seen since the PC port of the original Halo: Combat Evolved – a custom game browser. For those who aren't sure of what this means, it's a server browser for public custom games. This is a huge boost to Halo 5: Forge, meaning that Windows 10 gamers are getting nearly complete Halo 5 multiplayer completely free. You might not be able to join any matchmaking queues, but regular ol' server browsers are a staple of PC gaming.
The custom game browser continues 343's attempts to not only give people even more reasons to build maps in Forge, but also give them way more reasons to play them. Playing Forge maps previously required inviting some friends to join you, and not everybody is able to schedule that. It's been an issue since the very introduction of the Forge system, and seeing it finally fixed is absolutely great.
There's many other additions to Forge as well, including the return of Forge minigames. Some of these existed back in Halo Reach (i.e Halo Chess and Haloball), and both of those examples are also making their return. Returning content from past games is certainly an interesting part of this update, as not only is the classic Reach grenade launcher also making a comeback now, a list of future REQs for an update in 2017 shows some nearly untouched classic Halo helmets. These include the classic EVA, Mark V, Recon, and plenty more.
Other additions include Observer mode (a spectator mode) and a ton of new Forge additions.
If you'd like to buy Halo 5 for the Xbox One, you can find a copy in the Microsoft Store here. If you'd like to download Halo 5: Forge for your Windows 10 PC, you can find it here in the Windows Store.
Are you looking forward to playing more custom games in Halo 5? Let us know in the comments below!