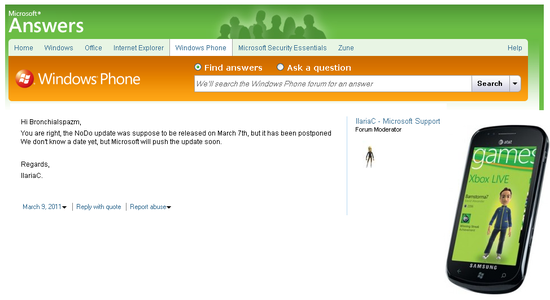 We regularly post rumours on WMPoweruser.com which subsequently do not pan out.  The NoDo update has been a great example of this, with dates slipping from January to February all the way to the 21st March at present. 
This of course does not mean we suck these dates from our thumb, but generally means the tips we receive in good faith soon become out-dated by things happening behind the scene.
We now have confirmation via Microsoft support that March 7th rumour of a dual Pre and NoDo update for Windows Phone 7 on AT&T was in fact on the cards, but has pushed back. I expect it is as much due to carriers as due to problems uncovered in the update process to begin with.
The latest rumour says the 21st March (via Mary Jo Foley), and to tell the truth, seeing how copy and paste has not been a critical issue for me so far, I will not in fact be checking the Zune software for an update every 15 minutes, and I suggest no-one else does either. 
Via WPCentral.com.