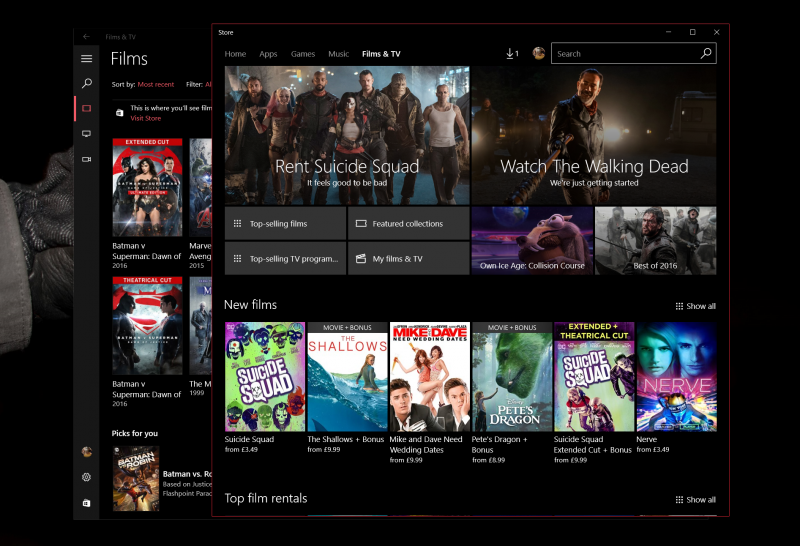 Following similar announcements from Hulu and Google today, Microsoft is updating the Windows 10 Movies and TV app for Insiders soon with Support for 4K Ultra HD content. If you're a Windows Insider running the latest Movies & TV app version, Microsoft will now let you buy and play these videos from the Windows Store. While Microsoft's Store previously supported HD and Full HD videos, this is the first time the Store and the corresponding app are now able to support 4K content .
That's not all that's new in this update, Microsoft has introduced a video cloud collection, analogous to the Groove Music pass collection. You can now sync media you've purchased in the app across your Windows and Xbox devices with that. Whole you could do it before with the "restore purchases" button, this makes it slightly easier.
For Xbox users, Microsoft is now making it easier to see what percentage  of a movie you 've viewed right from the homepage – saving you the proverbial click.
Here's the leaked changelog below:
It's now easier to sync video you've purchased in the Movies & TV app across your devices with the introduction of your video cloud collection.
When there is a UHD version of a video in our catalogue, you'll be prompted to purchase or rent the UHD version by default.
You can now purchase and rent UHD videos inside the Movies & TV app.
On Xbox One consoles, you can see how much of a movie you've already watched from your Homepage
The update is coming to Windows Insiders first, but will be coming to other Windows 10 users in the coming weeks.