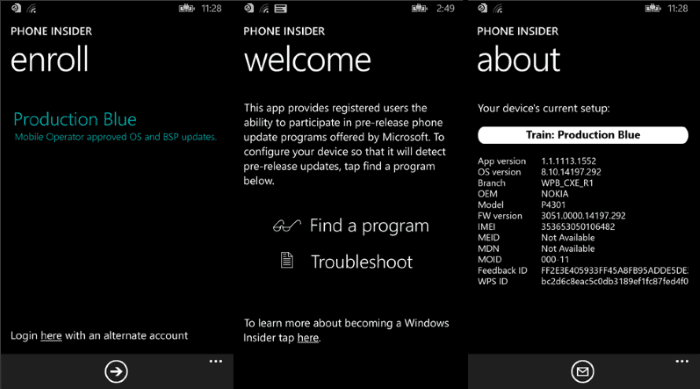 Microsoft will reportedly reveal Windows 10 for Phones (or Windows Mobile 10) at its January 21st event. As you may know, to get access to Windows 10 Technical Preview, users needed to be registered as an 'insider'. Now a similar "Phone Insider" app has turned up in the Windows Phone Store, published by Microsoft in November 2014.
As the app's description states, Windows Insiders will be able to receive pre-release OS updates on their phone:
The Phone Insider application provides registered Windows Insiders the ability to receive pre-release OS updates on their phone, directly from Microsoft. For more information about registering and becoming a Windows Insider visit http://insider.windows.com.
Of note it appears this app will also be able to deliver carrier firmware, unlike the Preview for Developers program.
Microsoft hasn't officially announced anything about the Phone Insider program just yet. However, it might be the replacement for the company's existing "Preview for Developers" program for Windows Phone 10.
As we stated earlier, Microsoft hasn't officially confirmed anything about the new program yet – however, we'll make sure to keep you updated with the latest on this topic.
The app can be installed from the Windows Phone Store here, but unless you work for Microsoft you will not able to do anything with it, as it requires credentials not available yet.
Are you excited for the launch of Windows Phone 10? Let us know in the comment section below.