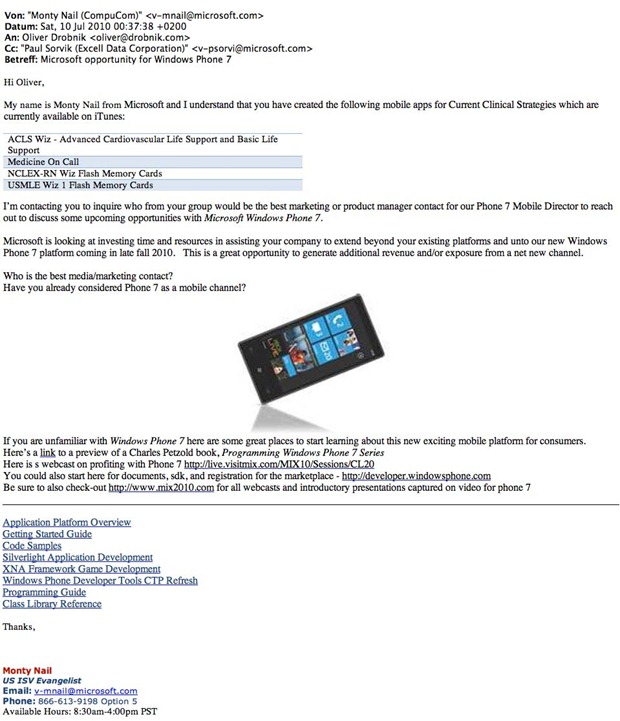 Click for full-sized version.
We already know Microsoft is making entreaties to iPhone developers to convince then to develop for the yet launched Windows Phone 7 OS.
One of these developers have leaked the e-mail Microsoft used to approach him, promising to "invest(ing) time and resources in assisting your company to extend beyond your existing platforms and unto our new Windows Phone 7 platform coming in late fall 2010" with the aim to "generate additional revenue and/or exposure from a net new channel."
The letter is interesting in many ways, first for Microsoft approaching a niche developer developing apps to help medics study for medical exams, and secondly because Microsoft is aiming for a "late fall 2010" launch of Windows Phone 7, which by most calculation would put it around November.
Unfortunately Microsoft's approach fell on deaf ears, seemingly running into some kind of fanboy (which likely explains why the letter went public).
He responded, saying:
You could probably guess my response. I previously elaborated that my own strategy concentrates solely on the iOS platform. I am already seeing this approach bear wealthy fruits because my multiple iPhone/iPad-related activities are in a state of constant cross-pollenization. I've adopted Apple's strategy to sharply focus your resources and not get distracted by "other things you could also do". In short I love the business that Apple enables me to conduct, I am very satisfied by it.

Sorry Microsoft, my loyalty to iOS is not for sale.
Hopefully Microsoft will have better luck next time.
Via AppAdvice and Mobiletechworld.com