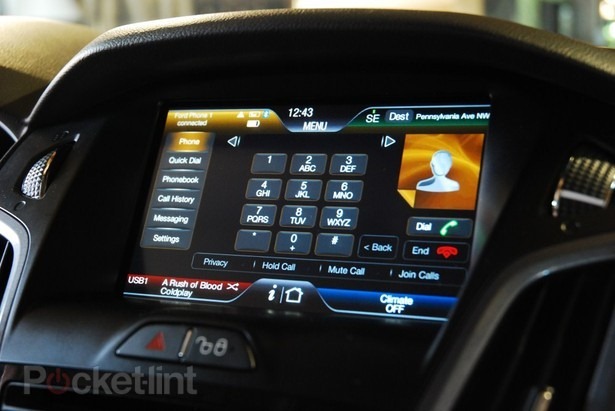 At the IFA Global Press Conference in Alicante, Ford said it is bringing its Microsoft-powered Ford SYNC to Europe in 2012.  The system, which will arrive in the Ford Focus, is mainly voice controlled but also works with an  8-inch touch-sensitive screen, embedded centrally in the car's dash, known as MyFord Touch, which displays four major hubs – climate control, media player, navigation and mobile phone.
The system understands 10,000 voice commands and can SYNC the contacts book and media stored on your mobile phone over USB and Bluetooth.  Using voice commands the driver can play music, make and receive phone calls, read SMS and even play video on the Touch screen.
While the system has many other features, such as calling the emergency services if the airbag deploys, or generating a WIFI hotspot in your car if you plug in a 3G Dongle, one feature in particular is very interesting.
AppLink allows the Ford Sync to interact with selected apps on your phone such as Pandora, allowing one to control features of the apps directly from the interface of the sync.
At present the system supports iOS, Blackberry and Android, but Ford's user interface design manager, Jason Johnson promised the system will also support Windows Phone 7 shortly.
See the AppLink in action on an Android phone in a video after the break.
Read more about the system at Pocket Lint here.