Is Copilot the best AI companion out there? Help us find out by answering a couple of quick questions!
As more and more companies get into the Smart Speaker market, we are seeing voice assistants getting popular than before. While we usually utilize voice assistants at home, it looks like they are popular in the workspace as well, according to a report from Spiceworks.
The report recorded responses from 500 IT pros across North America and Europe and found that 29% of organizations have either implemented one or more AI-powered chatbots or voice assistants for work-related tasks, or plan to do so in the year ahead.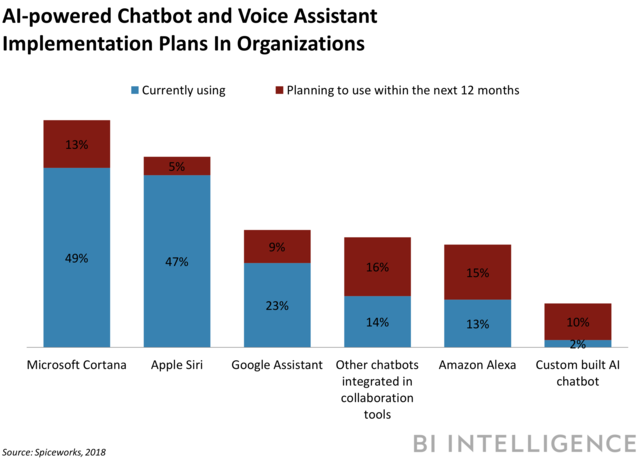 The report pointed to three major trends about voice assistants in the workplace.
Voice Assistants are used by IT departments to simplify the tasks- 53% of the organizations using Voice Assistants implement them within the IT department to simplify the different tasks.
Cortana is beating Google Assistant and Echo when it comes to Voice Assistants in the workplace- Microsoft Cortana is the most commonly used Assistant in the organizations. Around 49% of the organizations are using Cortana followed by 47% using Siri while just 23% of businesses use Google Assistant and 13% use Alexa.
40% of the large organizations are expected to AI chatbots or Voice Assistants by 2019- As of now, 29% have already implemented either AI chatbots or Voice Assistants and the number is set to increase to around 40% by 2019.
Voice Assistants have the capacity to replace many tasks performed by humans and in general, can help human both in personal and professional life. Moving forward we will see a deeper implementation of voice assistants and chatbots which will make our life easier.
Source: Spiceworks; Via: Business Insider