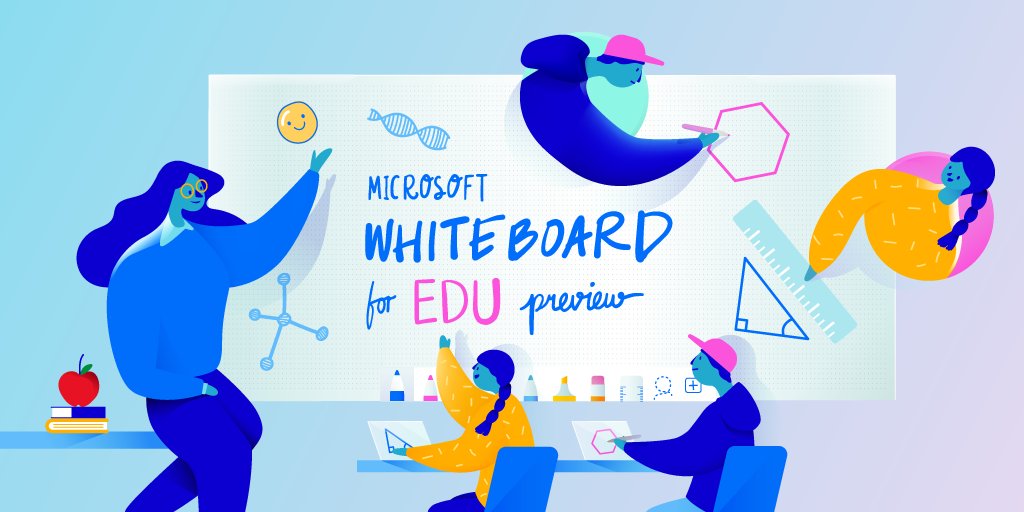 We posted a few days ago about a new program by Microsoft to bring their Whiteboard collaboration tool to the classroom.
Today Microsoft announced the Microsoft Whiteboard for Education Preview is now available to educators.
Microsoft Whiteboard for Education gives the whole class a new space to engage, ideate, and create. Teachers and students can brainstorm and grow ideas on this limitless canvas, coming together on lessons, projects, and more.
With Whiteboard for EDU, you can:
Collaborate in real time, wherever you are.
Give ideas room to grow using Whiteboard

's

 infinite canvas. Drive an interactive lesson from the front of the classroom on a large display. Flip the classroom by letting 

students

 contribute with notes, images, diagrams, and more on their individual devices. Brainstorm with others and 

be inspired by their 

thoughts

 in real time

. Provide a limitless space for lessons, student ideas, and group projects

.
Unlock creativity and interact naturally.
Work with whatever feels most natural to you. 

Teachers 

and

 

s

tudents can use their fingers to make quick 

additions

 or

 

draw the finer details

 with a digital pen.

 The pen-first, touch-first technology gives students immediate creative power, right at their fingertips. Don't have pen or touch? Whiteboard 

for EDU 

works great with 

a keyboard

 and mouse too.
Supercharge your learning experience.
From the 

ground up, Whiteboard

 for EDU 

has been designed 

with

 teachers and students in mind

: to work the way you already do.

 

Export

 your board directly to OneNote Class Notebooks for 

safekeeping. 

Change Whiteboard's background to 

a variety of new 

colours (including blackboard mode

!)

 and reduce eye strain

. Play with

 

different 

line styles

 to support

 writing and graphing

.

 

Use

 education

-themed

 stickers

 

with your students to collect 

poll responses

 

and give

 feedback in real

 

time.

 

Increase

 the

 readability

 of 

quickly-

jotted

 notes

 with 

Ink 

Beautification

, 

whic

h

 

analyze

s

 

handwriting and 

automatically 

replace

s

 

it 

with more legible strokes. 

Choose 

different

 ink

 styles

 

and colours

 

to give 

handwriting extra oomph. 

And for 

teachers and students who

 occasionally

 

use 

analogue whiteboards

, you can convert pictures of 

your notes

 into real digital ink with Ink Grab

, making the move from analogue to digital 

seamless.
Whiteboard for EDU launches today for Windows 10 and next week for iPad. After downloading, login to Whiteboard with your Office 365 Education account and enable "Education Preview" from the Settings menu. Microsoft has also created a Facebook group which educators can join for support.
Via the Microsoft Education Blog