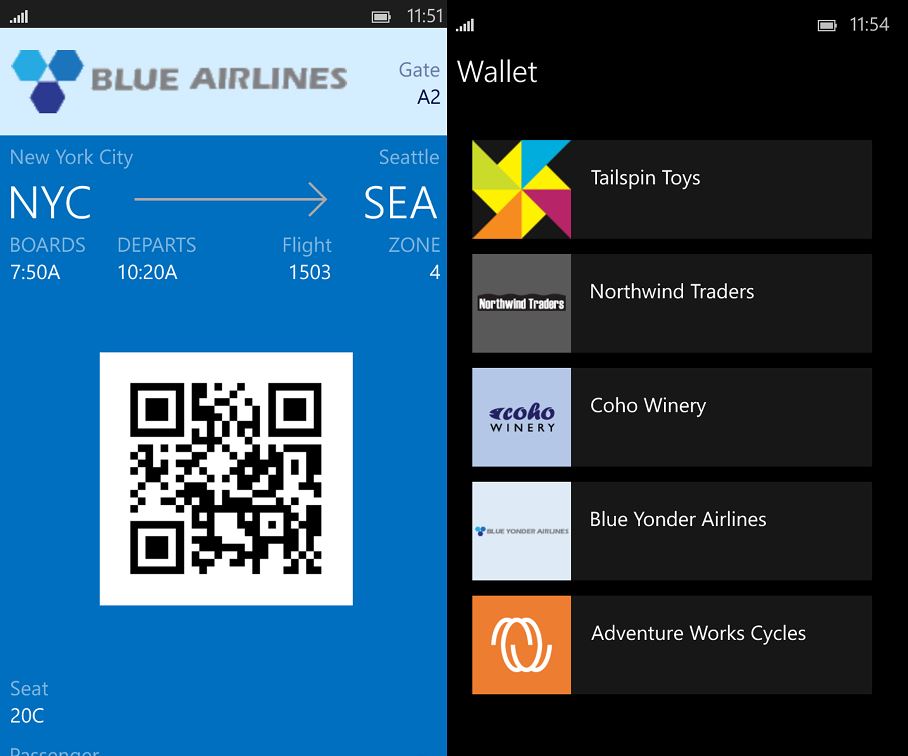 Microsoft's new Wallet app allows users to keep all their cards and passes in one place. This similar to Apple Passbook app in iOS. This app is now available for download from Windows Store on Windows 10 Mobile devices.
Features:
• Boarding passes – Show and scan your boarding pass at the airport or bus station.

• Event tickets – Show and scan tickets to concerts, sporting events and more.

• Loyalty cards – Show and scan your loyalty cards at the supermarket or your favourite restaurant.

• Membership cards – Check out books at the library, check in at the gym, etc.

• Coupons – Keep track of your coupons in one location.
The following features are deprecated in Wallet app which was available in Windows Phone 8.1:
• Credit or debit card support- The ability to purchase apps and games in the Windows Phone Store, or simply keep track of your card account info. And if your service provider and phone support it, you can even set up credit or debit cards to make NFC purchases in stores.

• Wallet PIN- A Wallet PIN is a numeric password that you can set up to protect access to your Wallet. The PIN can also prevent unwanted NFC payments and protect your purchases in the Windows Phone Store.

• Location and Date awareness: Certain apps can add items to your Wallet for you, and you can even set up reminders when you're near a place where an item can be used, or when a coupon is about to expire.

• Microsoft gift card – Redeem your Windows Store and Xbox gift cards, then spend them on apps and games in the Windows Phone Store. (You can also use them in the Windows Store and select Xbox stores.)
Download it here from Windows Store.
via: Windowsphoneapps.es