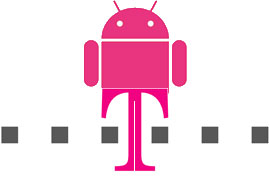 Below we have 2 stories from customers approaches T-Mobile sales reps with the intention of buying Windows Phones, and being pushed by sales reps towards Android handsets.
The first is by Zee:
As most of you readers, I was waiting desperately for Windows Phone 7 to launch. The Metro UI is different, but in an elegant way. It steered away from the traditional icon based UI to a panorama based UI. The new platform also brought so many of Microsoft's offerings together. To name a few, X-Box Live and Microsoft Office were a major selling point for the platform. On Microsoft part they came up with an extremely competitive OS.

On November 08, 2010 Microsoft launched the devices in North America. I am currently with T-Mobile, so I called up the nearest location to ask if they had any stock of the HD7. To my surprise the associate said, "We don't have such a phone, but we do have the HD2 back in stock." I could not believe one of the launch carriers had not properly trained the associates on the product. So I decided to hold off on the purchase as I heard there was going to be a bogo deal coming in the upcoming week. So as soon as the bogo deal came about, I decided to go back and try to get the phone. As I walked in the sales rep greeted me and asked how he can assist me. I told him I was here for the bogo deal on the HD7. He took me to the HD7 and I played around with the phone, getting a little familiar with the device. Even though I knew about the phone, I decided to ask him some questions about it. His response," Well sir to be honest with you the hardware is nice but not the Operating System. You see it runs Windows Mobile. I don't know if you had a Windows Mobile device before but I have had many problems with it. It frequently crashed on me and froze. To be fair though they have changed the look and feel of it to be more finger friendly."

He then went on and told me "if you are here for the bogo deal, let me show you a phone that is worth the money to get." He took me over to the T-Mobile My Touch 4G an Android device by Google. Then the rep showed me the features of the phone. If I was just a regular customer I would have went with the MT4G based of the presentation he did for HD7. I took him back and showed some of the features of the Windows Phone, and he was amazed at the camera app. Also told him the new version is built from ground up and not just an update. I showed how quick and responsive the phone is versus Android. For example pinch to zoom, scrolling, etc.

If Microsoft wants to get serious in the game, they need to work out a plan with the carriers to educate the sales rep. I went to many stores to inquire about the phones and most of the reps tell the customers it's inferior to Android. If you ask why, they say Android has lots of apps and it doesn't crash. I mean seriously? I have had my phone for over 2 months and not once did I do a soft reset. Before I got my HD7 I had MT Slide. That phone froze and crashed. I don't know if they get more commission on Android. That's the only conclusion I can think of.
MICROSOFT PLEASE DON'T MESS THIS UP!!! GET ON TOP OF YOUR GAME!!!
The second is by Benjamin
I really don't know who to contact maybe microsoft would listen to you guy if you guys right an article. This is my story last night my friends htc hd2 broke we went to the store t-mobile to be exact in pasadena texas. We went in there checking out every phone and he really liked mine (proud owner of htc hd7). When we got to the part where the hd7 was the rep said this "you want to stay away from this crap" pointing at both windows phone and windows mobile. I responded "correct me if im wrong but those two phone are totally different; the only thing they carry to be same is the word windows."

Just makes me mad to see that with uncompetitive reps windows phone doesnt even get a chance. I went back for no reason to play with hd7 on display, I dont know why since I already own one, just to find out it wasnt even plug in! Yes, it was off. Well end of story my friend went ahead and got a mytouch 4g only because of the tethering function, I told him if he really liked my phone I could go ahead and make it do tethering also. I saw the instructions on your website. He responded "Please do that because this 4g phone is a girls phone I need my big screen." He is going to return it and get a windows phone.
We have heard other reports, so it sounds clearly systemic. Â Have you run into this issue at your local T-Mobile store? Let us know below, and please include the location of the store, which we may forward to Microsoft.
Edit: How about some direct action. Â If you had a bad experience at a T-Mobile store, copy the below form letter, fill in the spaces and fax it to T-Mobile headquarters at this fax number 425-378-4040, using this freefax service if you do not have easy access to a fax machine.
To:

Customer Relations

T-Mobile USA

Re: Complaint about poor customer service at _________________________ store.

I wish to complain about poor customer service at your ____________________ store on the _________ date.  When I attempted to buy a new Windows phone 7 handset the in-store representative ignored my interests and kept trying to sell me a handset I was not interested in at all.

They were also not very well informed, and did not know the features of the Windows phone 7 handset I was attempting to buy.

I am sure such behaviour is putting many customers off, and I hope you are able to improve training in Windows phone 7 in the ________________ store, so your representatives would me more helpful and knowledgeable about the product.

Regards

_________________

Account number __________________