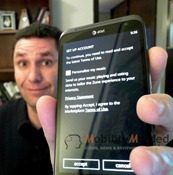 Microsoft has updated the terms and conditions of Windows Phone Store to allow Microsoft to personalize your music by sending music being played and the ratings back to Microsoft to "tailor the Zune experience to your interests".
This is of course something I frankly thought Microsoft was doing already, but it may be that the wider roll-out of Xbox Music makes getting explicit permission again necessary.
The screen can be seen when updating marketplace software.
via MobilityMinded and WPArea.de.
Thanks to everyone who sent this tip in.