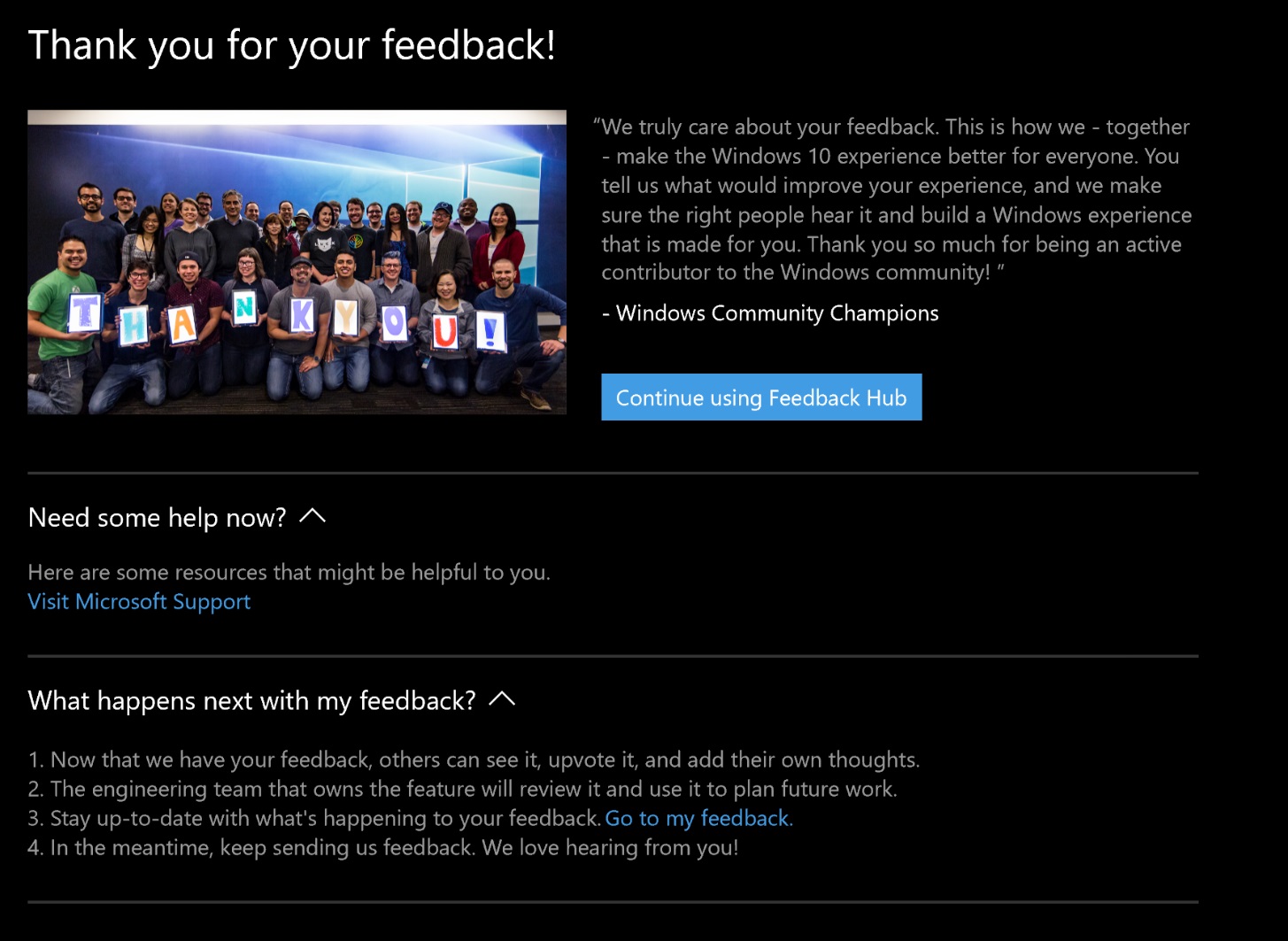 Back in August, Microsoft announced a bunch of new features and improvements to the Windows Feedback Hub. The company is now rolling the new features out to the Windows 10 users and the update also bumps the app to v1.1907.2762.0. You can head below to take a look at the new features available to Windows 10 users.
Feedback Search UI updates- The Feedback Hub team has been hard at work lately bringing some app updates based on your feature requests, and we have a few changes and improvements to talk about today!
On the Feedback section of the app, you will now more clearly see differentiation between Problems and Suggestions, with each being indicated with an icon, color, and Problem or Suggestion displayed above each feedback entry. We also have updated iconography and displays for Adding similar feedback to problems, upvoting suggestions, and adding comments to feedback.
Adding similar feedback- In the past, Feedback Hub allowed two kinds of participation on feedback: upvoting and adding more details. The notion of voting on Suggestions makes a lot of sense – Engineers at Microsoft want to know which features the community wants us to build next, and voting on feature suggestions is a great way to see where your interest lies.
However, voting on Problems was trickier – Problems are not a matter of popularity, and what helps engineers here resolve problems is having clear descriptions of how the symptom arose. Feedback is especially helpful if it includes a reproduction the problem, diagnostics that help our teams pinpoint what went wrong so they can fix issues faster. Voting on the search page often did not provide enough detail as to what was happening, and we saw that few people went into existing feedback to add their personal reproduction of the issue.
With the new Add similar feedback feature, selecting a problem with symptoms that match your own will take you to the feedback form with the title pre-filled. You edit the title or add your own description to let us know exactly what was happening when you encountered the problem. We'll already have your category selected to ensure the right feature team sees your feedback, and in our new Similar Feedback section, the feedback you selected will already be selected. As usual, the last step involves optionally adding your own reproduction of the issue or any attachments you like.
Windows Insiders Achievements- We are excited to announce a refresh of the Windows Insider Achievements page. We've made achievements more discoverable by moving them from your profile page to their own landing page, and we added additional features that allow you to categorize and track your progress. Be sure to check it out today and begin unlocking badges. We would love to hear your feedback on social media by using the hashtag #builds4badges.
The information previously found in your profile (Device ID and User ID) is now located in Settings.
The update should download and install automatically. Alternatively, you can head to the Microsoft Store to download and update the app manually.
Via Techdows