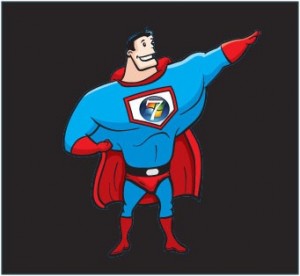 Microsoft appears to have noticed their Windows Phone 7 handsets often appear to be rehashed Android devices, and are aiming to correct that.
In a recent Microsoft job posting they are looking for a senior executive to deal with Korean OEMs (like Samsung and LG presumably) to secure "clear differentiated devices & competitive price points targeted at consumer and business segments".
This will include so-called "hero" devices for which Microsoft want to ensure operating give good placement.
Microsoft's main leverage appears to be JMAs, which are likely Joint Marketing Agreements, where Microsoft would contribute significantly to the marketing costs of handsets with OEMs. Â This strategy would be familiar to most readers from the Intel Inside logo, where Intel would contribute to the cost of TV ads for OEMs like Dell as long as their jingle is played.
Microsoft appears to be planning to play hardball with OEMS entering into these agreements, saying part of the executives responsibility would be to:
Secure OEM unit volume against marketing investment commitments & hold them accountable through end to end Execution (JMA)
Many of our readers have commented that Windows Phone 7 lacks a clearly differentiated hero device to set the ecosystem on fire. Â Hopefully Microsoft will get OEMs to deliver this after all.
See the full job posting after the break.
Job Category: Sales Location: Seoul, KOREA, REPUBLIC OF Job ID: 767055-53678 Division: SalesKey Responsibilities/ Accountabilities§Land OEM portfolio ahead of the Mobile Operator ranging process with clear differentiated devices & competitive price points targeted at consumer and business segments

§Secure the OEM commitments through the prescribed OEM JMA process and develop the local sales and marketing prioritization plans to ensure a healthy and differentiated portfolio of devices

§In concert with the OC Partner Management team drive clear alignment between the OEM and target Mobile Operators to secure commitment for hero device and placement

§Support MCB in securing OEM marketing investments where possible at a global level, to support regional & local programs & marketing activities.

§Negotiate JMAs with clear marketing execution activities & commitments:

?MO retail execution & investments based on WWRS guidance/asks, including: 1) training, 2) live devices & merchandising, 3) RSP seeding & incentives.

-MO-led ATL & demand generation per give/gets

-MO & OEM commitment to 3-way planning with OEMs/MS/MO.

§Accountability for MO execution on JMA — drive escalation from OC Lead/Retail Lead where partner execution is not adequate.

§Owns execution of OEM JMA landing through the Windows Phone Operator Accounts. Secure OEM unit volume against marketing investment commitments & hold them accountable through end to end Execution (JMA)

§Manage overall supply chain to monitor & escalate device supply required for key operators & markets

§Lead a consistent and predictable business where team members are held accountable for performance and to improve Partner NSAT

Measures of Success

§Management and completion/close rates of the local JMA's

§Subsidiary scorecard metrics (Sell-Through Units/WLID)

§Quality and Effectiveness of the OEM management, planning and execution aligned to the business KPI's

§Account units, Revenues

§NSAT

Key Required Competencies (top 5-7 max)

§Passionate and knowledgeable on mobility technology as an enabler for the company's growth

§Experienced in building partnerships and influence with senior leadership/management through deep insight of the businesses and understanding of their customer/partner needs.

§Strong partner management "discipline" of working with people; in a structured way, orchestrating teams through complex technology solutions, commercial terms and organization politics

§Collaborative and able to set clear goals/timelines and meet them; consistently demonstrates strong people management skills.

§Partner management who consistently demonstrates integrity and honesty, and delivers on promises

Interviewers/Decision Makers

§OC Lead, OC Partner Management, OEM Lead, WWOC B2C