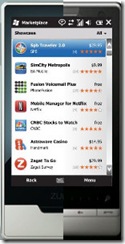 Long Zeng from the istartedsomething blog has uncovered a recent trademark application by Microsoft
A trademark application by Microsoft early last week could be an indication of what more the Zune HD might do, applications.
The trademark application 77775625 for the trademark "ONEAPP", or alternatively pseudo-marked "One Application", is classified as a trademark for "online retail store services facilitating the download of computer software for use on mobile phones, media players and other portable electronic devices".
Furthermore, a separate classification describes,
computer software for allowing mobile device users to send messages, make payments and access and play music, games and videos on mobile devices; computer software platforms for developing mobile applications; computer software, namely, software development tools for the creation of mobile applications; computer software for running retail store site for purchase and download of mobile applications over wireless networks
Why Microsoft needs a separate trademark for their application store beside Marketplace is anyone's guess, but the most interesting speculation is that OneApp may refer to the ability to run the same application on your ZuneHD as your Windows Mobile 7 phone, which would certainly by an interesting and useful development, and make sure the Zune ecosystem does not become a cul-de-sac for developers.
Read more at istartedsomething.com here.
Via 1800pocketpc.net, thanks Wreiad for the tip.