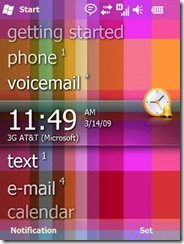 Through new partnerships with the Design Museum London and Council of Fashion Designers of America, Microsoft will offer a variety of free designer themes to help people express their personal style on Windows® phones. Microsoft today announced Mizrahi as the first in a series of designers to create exclusive themes, including colour palettes and wallpaper. Other designers will be announced in the coming months.
"Phones are just as much a fashion statement as the clothes you wear," said Mizrahi, fashion designer and TV personality. "As a designer, I'm excited to team up with Microsoft to bring forth fresh and funky new ways for people to make their Windows® phones a part of their personality. Cast aside your old black phone, and make this year about colour and fun."
In addition, the new Theme Generator will provide people with yet another way to personalize their Windows® phone. The Theme Generator, available at http://www.windowsmobile.com later this year, will enable Windows® phone users to select pictures from their PC to set as background images, as well as choose colours to personalize their navigation bar, scroll bar and highlighted text. Once finished, their personal theme will be sent to their phone.
These moves, though small, are quite significant, as Microsoft has never before focussed on the consumer side of their mobile OS like this before, and in some ways it seems almost X-Box like, suggesting Microsoft it taking their offensive on the mobile market very seriously indeed.
Via Engadget.com