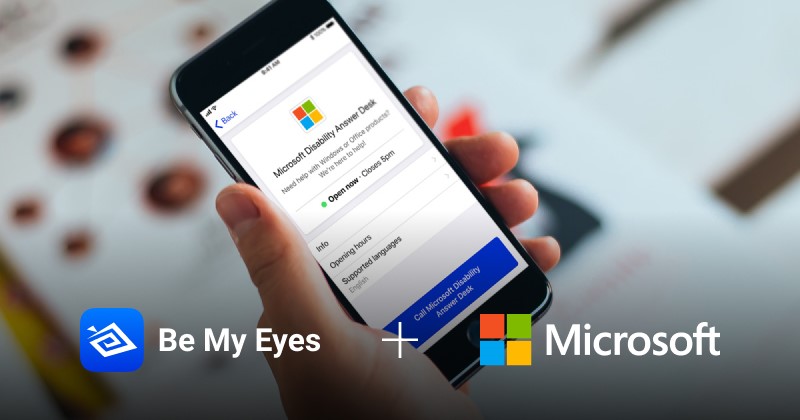 Be My Eyes is a fast growing app among blind or low vision community of people. This app connects blind or visually impaired users with a sighted volunteer, who can assist the blind or visually impaired, through the video connection from the blind or visually impaired user's rear-facing camera. Over 900,000 people across 150 countries are using this app regularly. Over the time, Be My Eyes developer team noticed a growing number of technology-related requests to volunteers. To address this issue, they have built a new feature called Specialized Help. Microsoft is the first company to be highlighted in Specialized Help section.
Be My Eyes users can now receive technical assistance from Microsoft's Disability Answer Desk, a free consumer service for Microsoft's customers with disabilities. Once connected, they can ask questions about their Microsoft product or service. This feature is available in following countries:
Australia, Canada, the United Kingdom, Hong Kong, Ireland, India, Malaysia, New Zealand, the Philippines, Singapore, South Africa, and the United States.
"Be My Eyes provides a new and innovative way for our customers to get technical support," said Neil Barnett, Director Disability Answer Desk, Microsoft. "With a simple tap, customers can access the Disability Answer Desk from their phone to get the help they need with Microsoft products and services."
"Given the high volume of interest from our customers for technical support, collaborating with Microsoft creates a great service for our community," said Hans Jørgen Wiberg, creator of Be My Eyes. "Every day, volunteers around the world are helping people that are blind or have low vision solve challenges both big and small. We are honored to have Microsoft's support to help individuals lead more independent lives."
Download Be My Eyes app from the Apple iOS store or the Google Play store.
Source: Microsoft