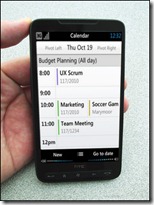 According to ZDNet Taiwan, Microsoft is set release Windows Mobile 7 to OEMs for testing in Q1 2010, with a launch date set for Q3 2010, a year after the launch of Windows Mobile 6.5.
The so-called "Maldives" program is set to collect feedback from OEMs, and ZDNet reports Microsoft is stepping up development in the face of declining market share.
If the OS is released to OEMs it is highly likely the first leaks will also occur early next year, just like with Windows Mobile 6.5, which means all those HTC HD2's may very soon be running Microsoft's latest release also.
Read more at ZDNet.tw here.