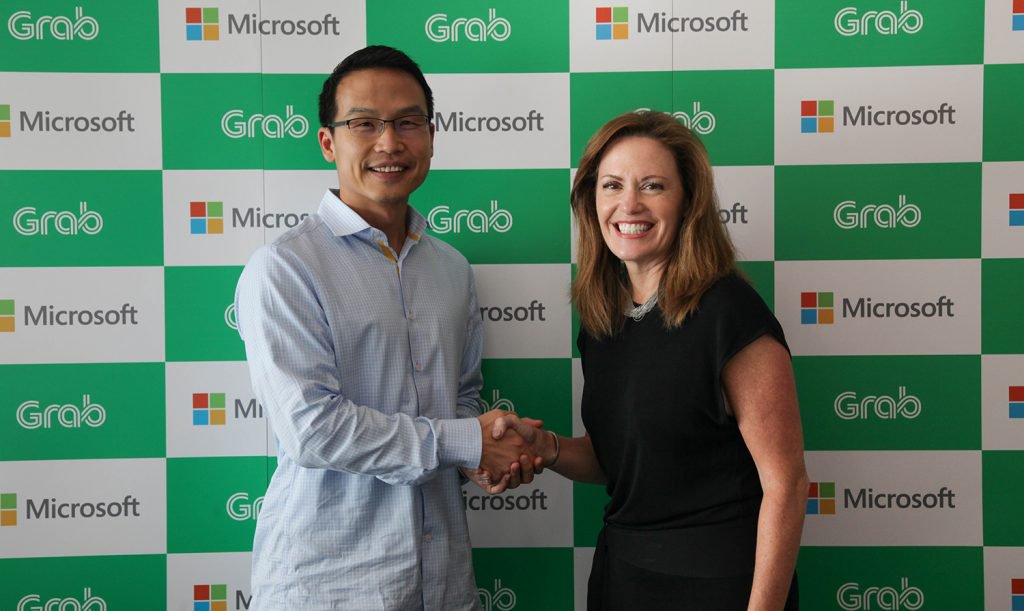 Grab is a leading on-demand transportation, mobile payments and online-to-offline services platform in Southeast Asia. Microsoft has now announced a strategic partnership with Grab that will transform the delivery of digital services and mobility by taking advantage of Microsoft's machine learning and AI capabilities. As part of this partnership, Microsoft Azure will become the preferred cloud platform and Microsoft will make a strategic investment in Grab.
Microsoft and Grab are exploring a number of projects that will enhance and transform the Grab experience for Grab's users, driver-partners, merchants and agents. Read about some of them
Big data, AI and machine learning
To help improve passenger and driver safety and security, Grab will work with Microsoft to explore new authentication mechanisms such as mobile facial recognition with built-in AI for drivers and customers who opt in, as a replacement for checking IDs, that help match both driver and passenger identities to the reservation.
Grab will explore utilizing Microsoft Azure's data analytics and fraud detection services to better predict and prevent fraudulent transactions on Grab's platform.
The companies plan to leverage Microsoft's natural language processing capabilities to provide customers with contextualized real-time translations and create an AI chatbot so Grab users can engage in interactive experiences.
Microsoft's machine learning and AI capabilities will be used to power Grab's advanced "recommendation engine" that analyzes user data and behavior to provide personalized services and content recommendations through the Grab application.
Grab also plans to work with Microsoft to explore image recognition and computer vision technologies that will improve the user and driver pickup experience. For example, passengers will be able to take a photo of their current location and have it translated into an actual address for the driver.
To improve map creation and quality, Grab plans to tap into the power of Microsoft's machine learning capabilities.
Other areas of collaboration
Microsoft Outlook integration. Grab will provide on-demand transportation booking options to Outlook users so they can seamlessly book rides directly in the application and be alerted with calendar reminders.
Microsoft Kaizala. Grab will pilot Microsoft's Kaizala, a mobile app and service for large group communications and work management, to improve the efficiency and effectiveness of Grab's Customer Service teams.
In-car solutions. The companies will collaborate on the deployment of in-car entertainment and productivity solutions across Southeast Asia.
Rewards integration. Microsoft will explore integrating Microsoft Rewards Gift Cards into the Grab Rewards loyalty program.
"Our partnership with Grab opens up new opportunities to innovate in both a rapidly evolving industry and growth region," said Peggy Johnson, executive vice president at Microsoft. "We're excited to team up to transform the customer experience as well as enhance the delivery of digital services for the millions of users who rely on Grab for safe and affordable transport, food and package delivery, mobile payments, and financial services."
Source: Microsoft